Antarctic-bound youth trains by living in freezer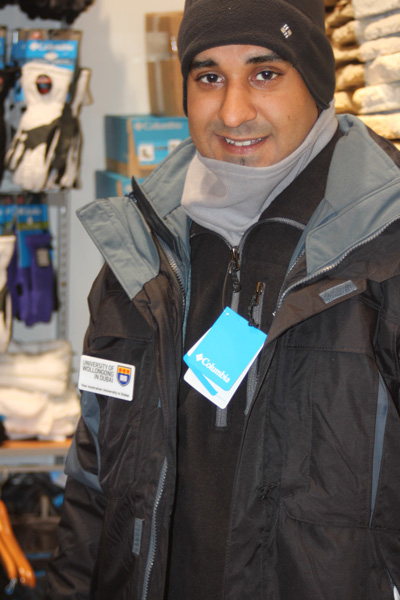 University of Wollongong in Dubai (UOWD) is sponsoring the expedition of an Omani UOWD graduate who is undertaking a gruelling two-week expedition to the Antarctic as part of a 30-strong Youth Ambassadors team that will live in sub-zero temperatures, whilst enduring the bone-chilling Antarctic winds.
Bader Al Lawati, a 2010 graduate from UOWD in Bachelor of Commerce (Marketing), is currently training with a fellow Omani, Ameer Abdulhussain, for the expedition that will begin on February 28, 2013.
The expedition seeks to raise global awareness about climate change and its effect on local communities.
The Omani participants will face an extra hard time, having been born and raised in desert climates, and would require additional precautionary measures before transitioning into an environment where the temperatures reach minus 30°C.
However, sub-zero temperatures are not the only concerns that the two 'Freezing Omanis' will face, as Antarctica is known to be the windiest place on earth. Strong winds can make minus 5°C feel like minus 15°C.
In order to ease the transition, and minimize temperature shock, Bader and Ameer have begun spending substantial amounts of time in industrial-sized freezers.
"Spending time in freezers allows us to acclimatize our bodies to the extreme colds, which not only prepares us physically but mentally as well. We have already seen benefits from this as we're now able to comfortably spend several hours in the freezers rather than the initial brisk few minutes we were able to endure at the beginning of this training," says Bader Al-Lawati.
Alongside the challenges brought on by the extreme climate, the Freezing Omanis will also have to withstand physically demanding activities such as hiking and trekking in the Antarctic.
"In order to prepare ourselves for the treks, we have started training ourselves physically to increase our stamina levels and core strength, by trekking through the wadis of Oman," says the soon-to-be youngest Omani to set foot on the Antarctic Peninsula, Ameer Abdulhussain.
Training is only half the battle, as without proper equipment and gear, the two young Omanis will truly be Freezing Omanis. Organisers of the International Antarctic Expedition have specified the vital characteristics of the equipment that the expedition members will need to obtain. These specifications include specialized layers of clothing that had to be ordered from the clothing brand Columbia, as the Omni-Heat Technology that's been embedded into their clothes provides required insulation.
Further recommendations by the expedition organisers include building up four to five wind-resistant and waterproof layers, with high emphasis on extremes, as frostbite is a real concern and danger in the Antarctic environment. Further, eye-protection in the form of UV-reflective sunglasses and ski-goggles is needed to ensure that vision is not compromised due to the surplus of solar rays brought on by the thinned ozone layer.
The specialized gear and equipment come at a high cost, which is being borne by UOWD and other sponsors, including Velosi Applus – OHI, The Cake Gallery, The Oman Power & Water Procurement Company and Enhance Oman.
Follow Emirates 24|7 on Google News.