Are we healthy or careless? UAE residents spend less than $100 a year on pills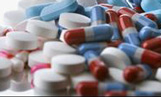 Is spending more on pharmaceutical products is a sign of a nation being health-conscious or careless?

It reflects both.

One side of the coin is that the higher spending means residents are health conscious and the other side is that common diseases such as hypertension, diabetes and high cholesterol are prevalent in the society.

In the UAE, figures show that the nearly 9 million residents spend Dh2.87 billion ($568.66 million) on buying medicines, averaging less than $100 (Dh367) per person and it will jump substantially over the coming years.

According to a study released by the Dubai Chamber of Commerce and Industry, consumer expenditure on pharmaceutical products, medical appliances and equipment in the UAE is forecast to increase at a compound annual growth rate (CAGR) of about 9.78% from 2014 to 2020 as, by then, the value of consumer expenditure on pharmaceutical products, medical appliances and equipment will increase to around Dh5.03 billion.

Overall per capital spending on healthcare in the UAE is approximately $1,200 (Dh4,420), ranking the emirate among the top 20 countries in the world, another report claimed. The World Health Organisation claims that the UAE is 22nd most obese nation in the world.

The higher spending on buying the pharmaceutical products reflects high level of diseases which can be controlled through a number of measures such as diet control, daily exercises and a maintain healthy lifestyle.

The increase, according to the Dubai Chamber study, has come in light of the growth in income and population, together with increased awareness about the importance of healthy living across the Mena and South and East Asia, and has created demand for medical services and has generated potentially lucrative opportunities for Dubai to become the hub for medical tourism for these regions.

The study is based on a BMI Espicom Business Intelligence report titled 'UAE Medical devices report Q4 2014'.

It also states that traders in this area can expect potentially robust growth in a range of products within the UAE and across the surrounding regions.

The underlying drivers cited for this growing demand are population and income growth as well as increased awareness about the importance of good health, growth of the medical tourism industry and expansion in medical health insurance.

According to data from trademap.org, the UAE imported about $385 million worth of equipment from the world market while it exported medical devices worth about $50.6 million worth of goods in 2013.
Follow Emirates 24|7 on Google News.