Armed Forces sign Dh14bn deals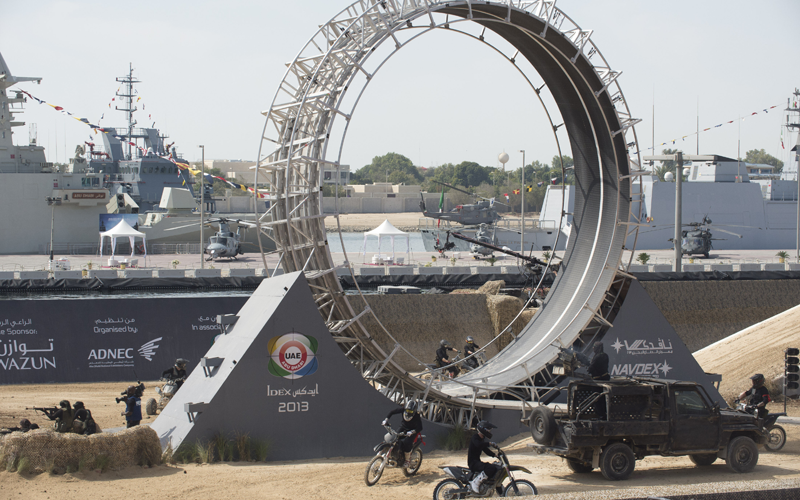 The International Defence Exhibition and conference (Idex) closed its doors on Thursday on the largest exhibition in the event's two decade history, with 1,112 exhibiting companies from 59 countries and over 80,000 visitors.
It also marks the close of the second Naval Defence Exhibition, (Navdex) which doubled in size since its inception with over 80 exhibitors. During the exhibitions, the UAE Armed Forces signed 55 defence contracts worth a collective Dh14 billion, reinforcing the nation's commitment to upholding an advanced and peaceful defence infrastructure.
"The UAE is proud to host Idex, the largest land, air and sea defence exhibition in in the Mena region and one of the most strategically significant defence exhibitions on the world stage," said Major General Obaid Al Ketbi, Head of the Idex Higher Organizing Committee.
"Over the past two decades, Idex has helped participants and exhibitors alike establish valuable strategic partnerships while facilitating knowledge-transfer amongst the world's leading defence companies, the UAE, and our friends and allies."
Reflecting the strategic significance of the exhibition, exhibitors from 2013 have already booked more than 50% of the exhibition area for Idex and Navdex 2015. While plans for Idex and Navdex 2015 are currently beginning, the next Navdex will include an expanded promenade and a deeper canal, allowing capacity to host larger visiting vessels directly at the exhibition site.
The Gulf Defence Conference held last Saturday, as a two-star-General-plus event, was the highest level conference to be ever held accompanying an international trade show. Six defence ministers, 12 chiefs of staff and 15 military leaders joined analysts and decision makers from around the world in discussing evolving trends in the defence world.
Idex and Navdex 2013 also witnessed the introduction of the dedicated unmanned systems and helicopter demonstration areas featuring hands-on technology workshops and purpose-built exhibition platforms, as well as the Live Demonstration Area establishing a forum for industry leaders to showcase the latest in defence technology. Navdex was able to host six naval visiting vessels at the Adnec quayside, in addition to the eight visiting vessels at Mina Zayed.
"I have been coming to Idex for the last 14 years, and the progression has been very impressive" said Lexalynn Hooper, representative of the Association of the United States Army.
"The improved organisation and increased visitor traffic this year are testament to the growing global importance of Idex. There is no doubt that the USA will be back for more in 2015."
For Koray Deger, representative of the Turkish country pavilion, the Abu Dhabi National Exhibition Centre (Adnec) is an ideal place to host Idex.
Follow Emirates 24|7 on Google News.