Asian maid's 'fame' leads her to prison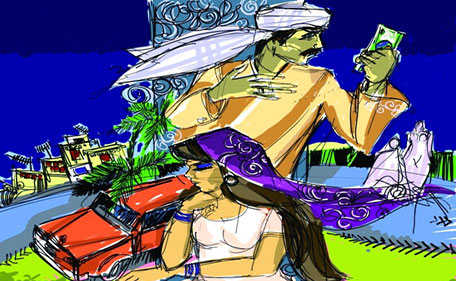 Many dreams fascinated this Asian girl when she first came to the UAE.

She dreamt of achieving ambitions and refused to work as a housemaid at first because she came on a proper work visa.

However, a man from her country convinced her to work on an hourly system to get more money, 'Al Bayan' reports.

The man who gave her the visa, identified only as 'Shah', kept her passport and visa with him to force her to work as a maid.

After three months, she got to know someone from her country called 'Ameen', she told him that she has no place to live.

He took her to Al Ain and allowed her to live with him, staying in the country now illegally.

She lived in his room and had an affair with him.

After sometime, he made her work as a prostitute for Dh50, at his home.

She, infact, became well known for those seeking such entertainment and her reputation spread to Shah - the man who first brought her into the country.

He went with a number of his friends from Ras Al Khaimah to Al Ain and kidnapped her at 2am one night.

The report quotes the girl as saying that she was locked up with two other girls and was raped by the kidnappers.

Shah then called Ameen and asked for Dh10,000 ransom.

That's when Ameen called police and told them that his 'wife' had been kidnapped.

After coordinating with Sharjah Police, Ameen negotiated the ransom down to Dh5,000. The police set up an ambush near Sharjah City Centre and arrested Shah.

The court sentenced Shah under Article 88 of the Federal Penal Code.

After further investigation, the woman was arrested for number of offences and sentenced to jail after which she will be deported; Ameen also will be deported.
Follow Emirates 24|7 on Google News.