Night swimmers risking lives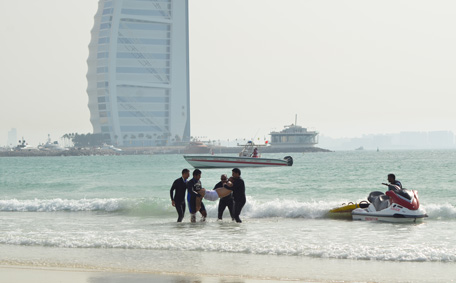 A total of 58 people drowned in the first seven months of this year, according to top official from Dubai Police, who added that out of these, 20 cases happened at night.
Speaking to Emirates 24|7, Lt. Col. Ahmed Burqibah, Deputy Director of Dubai Police's Search and Rescue Department said that that they have full control over drowning cases which happen during the day.
"It's the cases which happen at night that create problems for us."
He pointed out that majority of drowning cases happen on the beach near Burj Al Arab as most of the swimmers and tourists go there to take pictures.
"Burj Al Arab area topped the list of most drowning cases at night, with a total of 18 cases, followed by the Kite Beach area with one case, and one case in Al Mamzar Beach," he said.
Lt. Col. Ahmed Burqibah, Deputy Director of Dubai Police's Search and Rescue Department. (Supplied)
Lt. Col. Burqibah added that many people ignore warnings of not swimming at night.
"This is a serious problem which we face, especially with Asians as they follow the 'no swimming' alerts the least."
He pointed out that while the beaches are open for the public, "We only warn them not to swim at night because by doing so they put themselves in danger.
"We alert them that at night, there are no lifeguards on the beaches, but still, some people ignore all the alerts and go swimming.
"The problem is that in these cases, we can hear the drowning person screaming for help, but we can't find them.
"In many cases, we try to use our vehicles headlights, but still can't find the drowning people."
Asians topped the list of drowning cases by nationality with 42 cases from the beginning of the year till the end of July, followed by Arabs in 14 cases, and Europeans in two cases.
"Compared to last year, we had a total of 40 drowning cases, where we had 32 Asians, four Arabs, two Europeans and two from North America."
He added that soon, they are going to have a small brochure for the tourists and swimmers, which will be distributed to people to make them aware of the dangers of swimming at night.
Follow Emirates 24|7 on Google News.