Atlantis the Palm invites all children under 12 to dine for free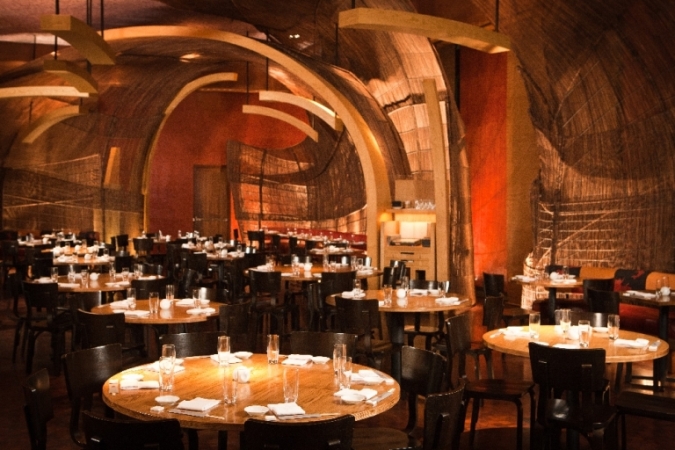 Atlantis, The Palm - the region's most family friendly resort has just gotten even friendlier, with the launch of its new 'kids dine free offer'.
This amazing deal open to all UAE residents is available across nine of Atlantis, The Palm's most popular F&B outlets including Nobu from now until May 26th 2017.
With each paying adult, Children aged 11 and under can enjoy a delicious variety of world class food for free from celebrity chef restaurants including Ronda Locatelli, Bread Street Kitchen and Nobu as well as Ayamna, Seafire, YUAN, Kaleidoscope, Saffron and Nasimi Beach.
Families can make the most of this amazing deal by trying out a new cuisine, or indulging in their favourite food whilst knowing that Atlantis is treating the little ones.
For the next three months, this fantastic deal will feature specially created children's menus at each of the nine outlets that kids can select from.
Whether your little one is craving sashimi at Nobu, one of Ronda Locatelli's famous pizzas or a juicy Seafire steak, there's plenty to satisfy the taste-buds of both the grown-ups and children.
Nobu
Michelin Star Japanese Chef Nobu Matsuhisa offers cultured kid's, starters including Miso Soup and Crispy Rice with Crab as well as an excellent selection of Sushi Rolls. Hot mains include Beef Skewers and the famous Black Cod whilst kids can end their meal with the Nobu favourite Mochi.
Children aged 10 and above:
Ronda Locatelli
At Michelin star Chef Giorgio Locatelli's Italian restaurant, Ronda Locatelli, kids can choose classic Italian starters including Passato Di Verdura blended Vegetable Soup, Arancini Italian Rice Balls, or Prosciutto E Formaggio Smoked Ham and Cheese. For the main event, a selection of traditional Pizzas and Pasta are available, alongside Cotoletta di Pollo con Patate Fried Chicken or Pesce Al Vapore Con Spinaci Steamed Fish.
Bread Street Kitchen & Bar
Celebrity Chef Gordon Ramsay's Bread Street Kitchen & Bar will get the little ones excited with a mouthwatering selection of dishes. Starters feature a Pizzetta Margharita, Crispy Chicken Wings, Cesar Salad and Macaroni Cheese. For main course kids, can choose from either Fish & Chips, Cheese burger and Chips, and Grilled Chicken with either Mash or Chips and Steamed Broccoli. Leaving room for dessert there's the Exotic Fresh Fruit Salad, Banana Sticky Toffee Pudding and children can also be creative at Bread Street Kitchen's famous homemade Ice Cream parlor.
Seafire Steakhouse & Bar
Seafire Steakhouse introduces its Mighty Mains for little meat lovers, featuring the Seafire Burger, Grilled Chicken Breast, Grilled Salmon, Grilled Steak, and Mac & Cheese.
Every Mighty Main can be finished off with a dessert from Sweet Treats, two scoops from a choice of Vanilla, Chocolate, or Strawberry Ice Cream.
Ayamna
The Lebanese eatery Ayamna, which translates to 'memorable days', offers an array of traditional Lebanese dishes with twist to cater to the young ones. Starters feature a selection of dishes from the Ayamna Kid Salad, Cheese Roll, Chicken Nuggets and Lentil Soup.
For the main event children, can opt for the Beef Burger & Chips, Shish Taouk & Baked Potato, and Lamb Kofta & Baked Potato. To finish, Ayamna offers refreshing desserts with either Chocolate or Vanilla Ice Cream, or Lemon or Strawberry Sorbet.
Children of all ages permitted until 9pm. 8 years and above thereafter.
YUAN
Those looking for Asian dining can visit YUAN, Atlantis's authentic Chinese restaurant. The kids' menu features taste of the Far East with Dim Sum and appetizers to begin with including Baked Barbecued Chicken Puff, Steamed Chicken Dumpling with Shrimp & Tobiko, Lychee Prawn Toast with Enoki Mushroom, and Sweet Corn Soup with Asparagus.
Chinese mains feature Sweet & Sour Chicken or the Steamed Seabass with Soya Sauce, with a selection of side dishes to choose from including Sautéed Vegetable Broccoli, Asparagus, Kalian and Pak Choi, traditional Egg Fried Rice or Stir Fried Soft Noodle.
For the sweet tooth, kids can choose the Chocolate Rocks or Ice Cream & Sorbet for dessert.
Children of all ages permitted until 9pm. 8 years and above thereafter.
Nasimi Beach
The incredible offer extends to one of Dubai's most iconic restaurants – Nasimi Beach.
Children will be spoilt for choice with a selection of 'must have' meals all with a chilled, beach club vibe.
The kids' menu features mains like Spaghetti or Penne Pasta with a choice of sauces, Creamy Tomato Soup, Grilled Cheese and Tomato on Sliced Bread, Atlantis kids' Beef Burger, Crumbed Chicken Strips, a selection of kids' Pizzas Margherita, Chicken, or Pepperoni, and Assorted Infants' Purees perfect for those under two.
Saffron
Families looking for an array of options will be delighted with Atlantis, The Palm's renowned buffet outlet and the children's menu will not disappoint.
Children will be thrilled with such staples as Chicken Nuggets, Steamed Fish and the perfectly Grilled Chicken Breast, all served with a choice of French fries, Mash Potato or steamed Vegetables. For the younger ones with a softer bite there is the option of the Mixed Vegetable Puree or the Creamy Mashed Potato.
Kaleidoscope
Finally, Kaleidoscope with its ever-changing cuisine has a great selection of children's classics.
The menu features five different meals - Chicken Nuggets with Fries, Chicken breast with Vegetables, Steamed Fish with Vegetables, Pasta with a choice of either Meat or Cream Sauce, and Pizza Margarita.
Side options include cream Mash Potato, Mix Vegetable Puree and French Fries.
Follow Emirates 24|7 on Google News.