Baby oryx born at Arabian Nights Village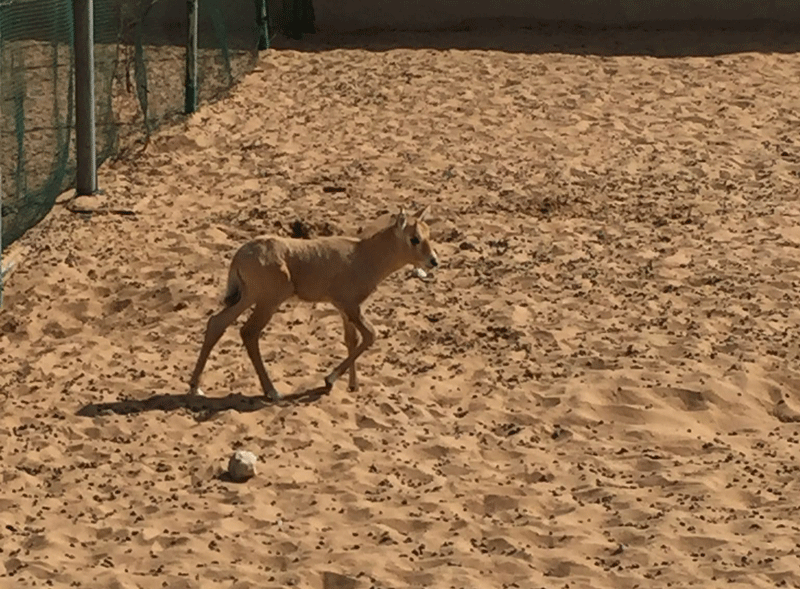 Arabian Nights Village, the digital detox glamping resort in the Al Khatim desert halfway between Abu Dhabi and Al Ain, has welcomed a new resident – a baby oryx named Saaed ('happy' in English) by staff.
Saaed, who will remain sandy in colour until his coat turns luminous white and his underbelly, head and neck sport black stripes on maturity, arrived two weeks ago after a straight forward labour.
Baby Saeed joins a herd including six other oryx, the UAE's national animal. Including Moutaib, his older brother who was born late last year.
"We thought Saaed was a fitting name for the lively, happy youngster," said Village Manager Rashad Koudsi. "He has stolen the hearts of many of our guests and staff, proving to be quite an attraction since he arrived two weeks ago."
Arabian Nights Village keeps the herd of Arabian Oryx – a species saved from extinction by worldwide conservation and breeding programmes including several initiatives in the UAE - to enable guests to get up-close to the beautiful desert antelopes.
The village, where day guests are welcomed on desert safaris and overnight accommodation in fully furnished, air-conditioned tents and mud or palm frond (barasti) homes, also keeps a herd of sand gazelles.
Fun Fact: The Arabian Oryx is believed to have given rise to the legend of the unicorn when an injured oryx with only one horn was spotted through an early morning desert mist.
Follow Emirates 24|7 on Google News.