Banned in Dubai: 'James Bond' list of weird gadgets, secret cams…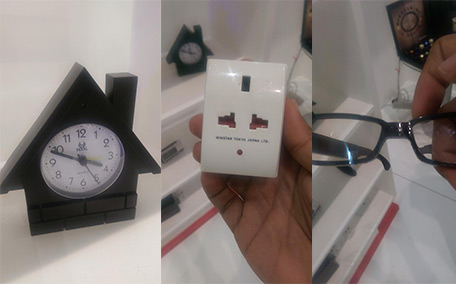 Dubai Police has drawn up a list of banned products, possession of any of which could lead you into trouble with law here in Dubai.
The products ranging from secret spy cameras to voice recorders to laser lights powerful enough to project to an aircraft were showcased at the just concluded Intersec – the security exhibition for security, safety and fire protection material that was held in Dubai.
"You can call it the James bond list, but these are banned in Dubai," said an official present at the stand.
Most of the items on the list were secret spycams. While a Google Glass which is purpose built for taking pictures and short videos do not make it to the list, the other items include an ordinary looking eyewear. Although it looks like an ordinary spectacles, a tiny pinhole in the middle of the frame indicates a secret camera. "Only a careful look into the frame will reveal the presence of the secret cam," the official said.
Another unsuspicious product on the list is a computer mouse. The dummy mouse is the most unsuspecting and natural item that could be found on any office or home desk but has a secret camera hidden inside that could capture pretty high resolution pictures and videos.
Also on the list are cameras hidden inside a three pin plug, a handbag, an MP3 player, a table clock and a car key.
Also on the list of banned products are gadgets such as voice call encryptors, signal jammers and simple audio recorders. A torch like device is among the list of products that are banned. When asked for details the official described it as a laser light that could beam all the way into an aircraft.
Follow Emirates 24|7 on Google News.