Beat the Dubai traffic with new air taxi service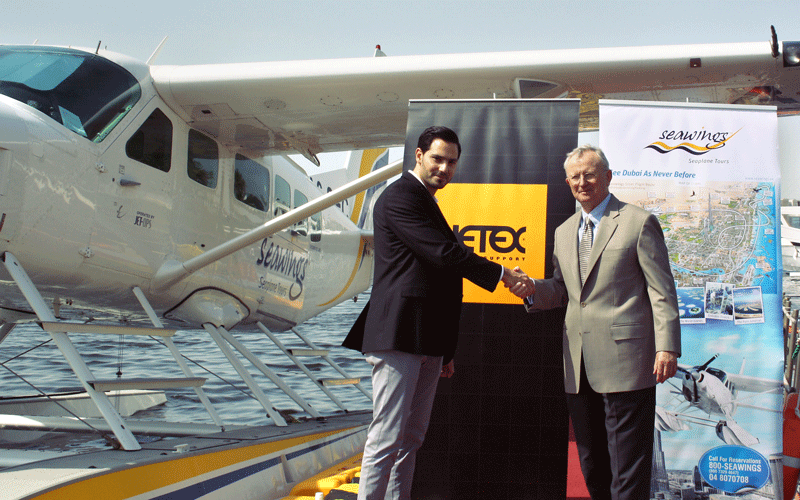 Seawings, the Dubai-based seaplane tour operator, announced on Wednesday the launch of a new air taxi service from Dubai World Central - Al Maktoum International Airport (DWC).

Working in collaboration with Jetex Flight Support, the service will provide clients with a luxury private transfer in a nine-seat Cessna 208 Caravan Seaplane from DWC to Dubai Creek Park Hyatt hotel amongst others.

It is anticipated this offering will be attractive to those wishing to save time and beat the Dubai traffic as a car ride from DWC to Dubai Creek Park Hyatt takes approximately 50 minutes during off-peak times but with the new Seawings air taxi service would be reduced to a mere 20 minutes door to door. Jetex will be offering the downtown air taxi flight as an added value to their existing services to its own private jet clients travelling through their FBO.

Seawings already offers sightseeing charter flights for clients and in conjunction with Jetex will promote flights to destinations such as Emirates Palace and the Viceroy in Abu Dhabi, The Waldorf Astoria in Ras Al Khaimah, Anantara Resort in Sir Bani Yas Island and Al Dana in Fujairah. Clients can enjoy a water take-off and landing along with panoramic views of the city's landscape and historic architecture in a 40 minute tour.

Stuart Wheeler, CEO of Seawings, said: "Seawings is proud to collaborate with Jetex to provide a premier service. Passengers will benefit from this service offering a comfortable travel experience combined with incredible views of the UAE. Seawings seaplanes can take off and land on water or runways and thus offer easy connectivity to various locations around Dubai and the UAE."

"It is our aim to ensure our clients have the best experience. We are proud to collaborate with Seawings and to enhance our service offerings in our hometown." said Ahmad Badreddine, Operations Manager at Jetex DWC.

Seawings LLC was launched in 2007 to provide aerial sightseeing excursions across UAE's skyline and landscape. It now flies to over 25 destinations in the UAE.

Jetex Flight Support offers a range of services including ground handing, fuelling, weather reports and logistics via its Dubai headquarters. In addition to the company's FBOs in Paris and Shannon, Jetex has recently launched a full-service FBO at Al Maktoum International Airport at Dubai World Central.


Follow Emirates 24|7 on Google News.