Bee'ah, EPAA launch innovative desert cleaning vehicles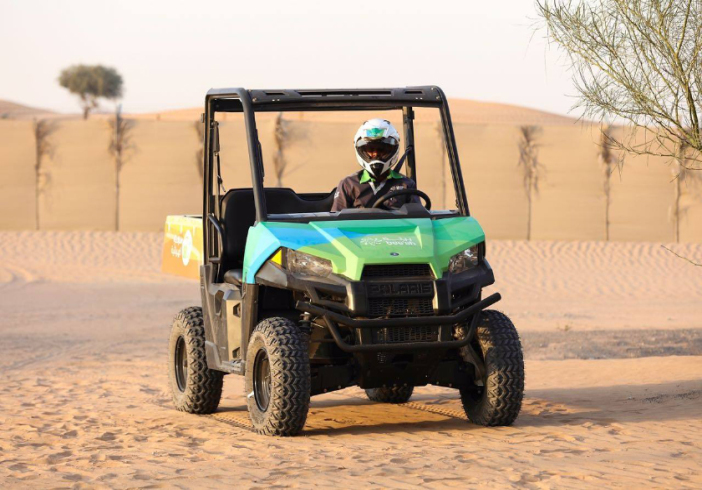 Award-winning environmental management company Bee'ah, in collaboration with the Sharjah Environment and Protected Areas (EPAA), launched its new electric desert cleaning vehicle called Polaris Ranger.
The vehicles are part of Bee'ah's and EPAA's first joint campaign to raise public awareness for the conservation and protection of desert areas in the Emirate of Sharjah, under the tagline "Our desert, Our heritage."
The new desert cleaning electric vehicle is the first of its kind in the UAE and is the latest addition to Bee'ah's existing line of electric vehicles. These include public cleansers, sweepers, washers, leaf collectors and litter pickers. Bee'ah is aiming for their entire fleet to run on electric power over the next few years, as well as to collaborate with its leading environmental partners in the region to provide innovative solutions across the UAE.
The new Polaris Ranger Vehicles, which were showcased during a desert cleaning campaign at the end of January, are efficient at maintaining the cleanliness of both city and desert areas. As well as having the advantage of being electrically powered, the vehicle sets the standard for sustainability as it does not require gas and is easily maintained.
"The launch of the new vehicles exemplifies our innovative approach, as well as our dedication to achieving the highest standards of sustainability. Bee'ah supports revolutionary ideas and technologies in the environmental and waste management sector, to ensure a healthy environment for the community," said the Group CEO of Bee'ah, Khaled Al-Huraimel.
"Innovation is central to Bee'ah's mission for Sharjah to become the environmental capital of the Middle East. Therefore, Bee'ah and EPAA have co-launched these innovative vehicles to stay ahead of the latest environmental developments in the world. Through Bee'ah's joint efforts with EPAA, we can provide the awareness and the environmental services that combine efficiency and utility, to enhance the quality of life in Sharjah and the nation as a whole," he concluded.
Hana Al Suwaidi, Chairperson of EPAA, said, "It is EPAA's top priority to protect the natural environment and this collaboration furthered our objectives. Bee'ah has become one of the premier environmental companies, offering the world's latest innovations and technologies to reduce pollution. Together, EPAA and Bee'ah support the principles of sustainable development to protect the environment for present and future generations."
Follow Emirates 24|7 on Google News.