Big Heart Foundation donates US$245,000 to fund vital resources in Mosul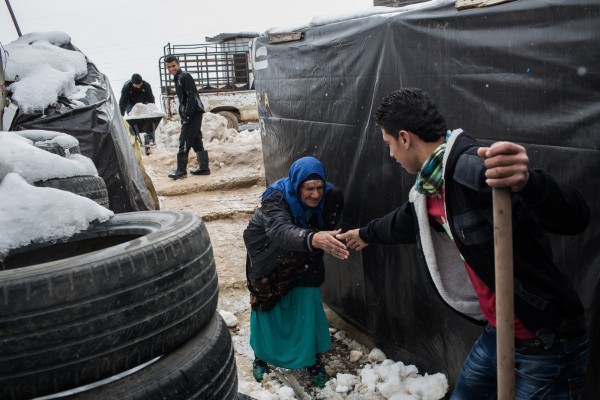 The Big Heart Foundation, TBHF, a Sharjah-based global humanitarian charity dedicated to helping refugees and people in need worldwide, has donated nearly a quarter of a million US dollars to provide assistance to the people of Mosul.
The amount is a result of contributions from organisations and individuals to the 'Warm Hearts' initiative, which was launched by the foundation in January to provide winter supplies, shelter and emergency relief services to thousands of displaced men, women and children in the northern Iraqi city.
For more than six months, Mosul has been the focus of intense fighting that has forced families from their homes.
According to the United Nations Refugee Agency, UNHCR, the number of displaced people in the city as a result of the conflict could reach more than 1.3 million.
To address this pressing humanitarian issue TBHF, in collaboration with the UNHCR, has donated US$245,000 to supply emergency shelter kits for the homeless and sealing-off kits for those living in unfinished buildings or damaged houses. Nearly 2,000 families will benefit from the initiative.
The Warm Hearts campaign is in line with the directives of Sheikha Jawaher bint Mohammed Al Qasimi, Chairperson of the TBHF and UNHCR Eminent Advocate for Refugee Children, and wife of H.H. Dr. Sheikh Sultan bin Mohammed Al Qasimi, Supreme Council Member and Ruler of Sharjah, to aid displaced families in Mosul.
The internally displaced families have had to leave Mosul to escape the war torn area which has left them without shelter and exposed to severe winter elements.
Mariam Al Hammadi, Director of TBHF, said, "The most critical issue we face in Iraq is one of finding winter supplies, shelter and accommodation for the thousands of people who have been forced to flee their homes in what is a humanitarian disaster.
Many of Mosul's women, children and elderly people are not even able to make it to the camps and schools that have been set up, they literally have nowhere to go."
The funds raised by TBHF through the Warm Hearts campaign will ensure that families without homes or adequate shelter are provided with winter supplies and emergency kits that will shield them from the elements and provide them with privacy.
They will also facilitate separation in community buildings and shared spaces where multiple families are residing, as well as allow for the setting up of washrooms, showers and communal kitchens.
With 3.4 million homeless people, Iraq now has the third largest population of internally displaced people in the world. Half of the population is composed of women, and an estimated 51 percent is under the age of 18 years. In recent months, some 213,000 people across the country have fled their homes.
Follow Emirates 24|7 on Google News.