Biker's obscene gesture at Dubai radar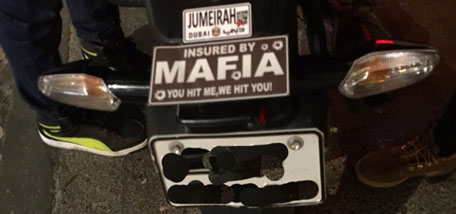 Dubai Police are searching for an American man accused of making an obscene gesture at a speed and security camera in the emirate while on a motorcycle with a friend, the emirate's traffic police chief was quoted on Thursday as saying.

Colonel Saif Al Mazroui said police had arrested the motorcyclist, also an American, by tracing his machine's plate number that was caught by the camera near Dubai Mall.

"The film showed that that man made an obscene gesture at the police camera in that area although he knew he would be filmed," he told 'Emarat Al Youm' daily.

"His friend told us that he took the man to the airport where he flew to Saudi Arabia to perform Umra (pilgrimage)…what that man did is an illegal and irresponsible behaviour."

Mazroui said the motorcyclist was detained as an accomplice in that act and for writing illegal words on his machine, including "mafia" and "you hit me, we hit you."

Mazroui said both men are on a visit visa to Dubai and that the offender had come with his family. He said police would wait for his return to arrest him.
Follow Emirates 24|7 on Google News.