'Blood of our martyrs will not go in vain'; 3-day official mourning [video]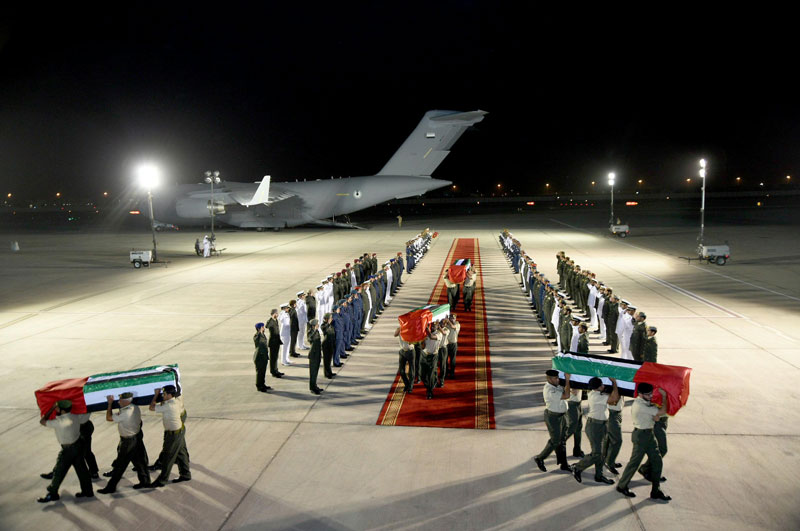 'Blood of our martyrs will not go in vain'

Sheikh Hamdan bin Zayed Al Nahyan, Ruler's Representative in the Western Region, Chairman of Emirates Red Crescent, paid a glowing tribute to Emirati soldiers who fell in the course of their national duty while taking part in the Arab Coalition's 'Operation Restoring Hope' to restore the legitimacy in Yemen and defend the oppressed.

In a statement, Sheikh Hamdan said, "Their blood will not go in vain, but will inspire their comrades in arms to accomplish the mission by liberating Yemen from the fangs of aggressive militias."

He prayed to the Almighty Allah to grant rest to the martyrs in Paradise and bestow patience and solace on their families, relatives and the people of the UAE.

Sheikh Hamdan said, "Our 45 martyrs and those who fell before them, will be remembered and cherished in the national memory for their huge sacrifices in the service of the nation."

3-day mourning
The UAE has declared a three-day official mourning, starting September 5, and that the UAE national flag will be flown at half-mast.
All schools as well as government and private sector organisations in the UAE will remain open during the 3-day official mourning period.
Bodies of Emirati soldiers, who fell in the line of duty during 'Operation Restore Hope', under the Saudi Arabia-led Arab alliance to support the people of Yemen and their legitimate government, were brought home on Saturday onboard a military plane of the UAE Air Force and Air Defence.
The military plane carrying the coffins landed at Al Bateen Airport, in the capital, accompanied by a group of Armed Forces officers and non-commissioned officers.
[Courtesy: Wam]
Senior Armed Forces officers held a special military ceremony at the airport to mark the return of the martyrs' bodies.
The General Command of the UAE Armed Forces on Friday mourned the gallant personnel.
Abdullah bin Zayed receives condolences from Arab counterparts

Sheikh Abdullah bin Zayed Al Nahyan, Foreign Minister, received telephone calls from a number of his Arab counterparts, during which they offered their heartfelt condolences on the martyrdom of a number of Emirati servicemen participating in the Arab Coalition's 'Operation Restoring Hope' in Yemen.

Sheikh Abdullah received condolences over the phone from Sheikh Sabah Khalid Al Hamad Al-Sabah, First Deputy Prime Minister and Minister of Foreign Affairs of Kuwait; Sheikh Khaled bin Ahmed Al Khalifa, Foreign Minister of Bahrain; Adel al-Jubeir, Foreign Minister of Saudi Arabia; Sameh Shoukry, Foreign Minister of Egypt; and Nasser Judeh, Deputy Prime Minister and Foreign Minister of Jordan.

The Arab foreign ministers expressed their deep condolences and sympathies to the leadership, government and people of the UAE as well as to families of martyrs, and prayed to the Almighty Allah to grant the martyrs' souls rest in Paradise and bestow patience and solace on their families.

Sheikh Abdullah thanked his Arab counterparts for their sincere fraternal feelings and for their solidarity with the UAE in this ordeal.
Sheikh Abdullah reiterated the UAE's firm support for legitimacy in Yemen.
Follow Emirates 24|7 on Google News.