Body of Algerian diver Adel Ait-Ghezala missing off Dubai coast found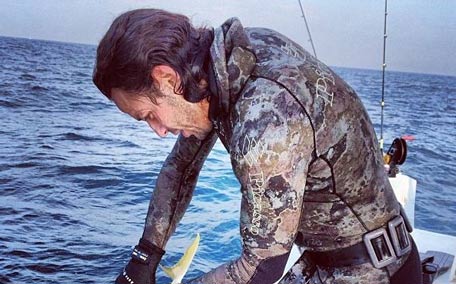 Supporters of an experienced Algerian diver who went missing off the coast of Dubai more than a week ago say his body has been recovered according to AP.

Adel Ait-Ghezala, a doctoral student at the American University in Washington, disappeared 32km (20 miles) off Dubai on New Year's Day after he went free diving and spearfishing with friends in the Arabian Gulf.

Friends helped raise tens of thousands of dollars to assist rescue teams in their search.

Image of Adel wearing the same wet suit he wore when he went missing. (Supplied)

"The news is correct. He was found yesterday," confirmed Adel's best friend Abdullah Al-Arian, who had flown in from Doha to be with the family.

Adel's friends had mobilised intense rescue operations to find him.

Abdullah had recalled that he was not in Dubai when the unfortunate incident happened. "I was in Doha but came here to be with his family."

Adel, who lives in the US, is an expert diver and has frequented this region before.

A Facebook page – Adel Ait-Ghezala Rescue Effort – set up to gather funds for the rescue operations confirmed the news.

"It is with a heavy heart that we say rest in peace dear Adel," the post read.

"Thank you all for all your prayers and support through the rescue efforts. Adel will be dearly missed. Please continue to keep his friends and family in your thoughts and prayers. We are full of gratitude for all your efforts."

A twitter drive – #HELPFINDADEL – had also generated immense social media attention.

A webpage set up to gather funds for the rescue operations had raised almost $70,000 in three days.
The National newspaper quoted the director of the Dubai police search and rescue department, Col Juma al-Falasi, saying that Ait-Ghezala's body was found Saturday, 3km (1.86 miles) from where he disappeared.
A Facebook group set up by friends to promote the rescue effort confirmed the death in a post.

Click to read: Search for Adel goes viral: Friends rally to Algerian diver missing off Dubai
Follow Emirates 24|7 on Google News.