Bollywood-style reunion in Dubai: Uzbek mum meets Indian son she left after birth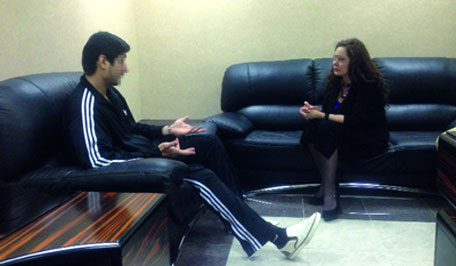 Dubai's police described it as a plot similar to an Indian movie. The main characters are an Indian father, an Uzbek mother and their son but the setting was thousands of miles from India, taking place in Dubai and Kenya.
The ending also has a stark resemblance of that in a film but it was still not clear whether it is a happy or sad end. Perhaps the readers have to judge.
Starting from the end, an Uzbek woman who married an Indian businessman and travelled with him to Kenya in1993 was deprived of her son just three months after he was born. After a weary search saga, she reunited with him in Dubai this week with the help of Interpol and Dubai's police but the adult son appeared not very impressed.
The story began when the Indian man travelled to Uzbekistan to pick a pretty wife in early 1990s. After a brief search, he found his target—a beautiful 17-year-old woman, who he quickly married and travelled with her to Kenya where he had business.
After they had their first son and named him Saeed, rifts erupted when she decided to add the boy to her passport. A few weeks later, the furious husband decided to get rid of her by telling her they were all going back to India.
At the airport, they boarded a flight but the man took his son and told his wife to wait in the aircraft as he forgot something at the airport. When he did not come back the pilot announced an imminent take off, she panicked, screamed and went into a hysterical fit, prompting the cabin crew to take her out of the plane.
After a while, she realised that she had been deceived by her husband and believed he took her son and travelled back to his home town of Mumbay.
Although she realised that she had lost her son, she did not give up and began a long but futile search journey. Yet she did not quit her endeavours and many years later, she decided to resort to Interpol, who located her son's whereabouts in Dubai.
After frenzied contacts through Facebook and other social networks, she was told by a girl that she knows her son and that he studies at a university in Dubai. But she got her first shock when she contacted him and was told to leave him alone. He even threatened her against contacting his friends again.

The mother, now 37, decided then to travel to the UAE, where she stayed with a friend in Ras Al Khaimah. She then contacted the Human Rights Department in Dubai, which managed to reunite her with her son after extensive contacts.
It was like a fiction story similar to that in an Indian film," said Colonel Mohammed Al Murr, the Department's director. "We decided to help this woman because she looked a respected person and she would never stop crying. The first meeting with her son was difficult and extremely emotional. It was a story that moved everyone."
The Arabic language daily Emirat Alyoum said the meeting was arranged by Lt Colonel Khaled Lootah, director of the woman and child protection department.
"It was a very dramatic meeting…when the mother went into the room and saw her son, she lost her balance and was about to faint. She then went into a weeping fit because was so happy, but her son appeared apathetic and said he was angry that she emerged in his life. She tried her best to explain that she is his biological mother but he still refused to accept that fact and looked as if he had an internal conflict," Lootah said.
"The boy then said his father told him that his mother sold him for $6 million in Nairobi (Kenya) in return for shares in a nightclub. He said that his real mother is the woman who brought him up in India and looked after him when he was a child."
Emirat Alyoum quoted Lootah as saying they arranged another meeting between the mother and the son and that they tried to convince the son to treat the woman as a real mother. "The boy then asked for time so he can absorb the situation. The second meeting ended in a very warm hugging by the mother of her son."
Follow Emirates 24|7 on Google News.