Book on Next-Gen Indian business leaders launched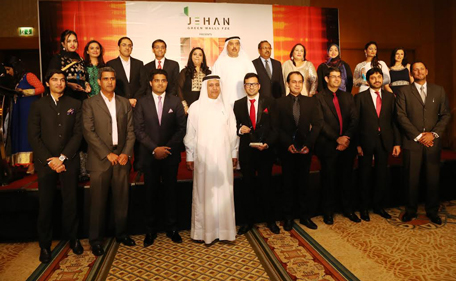 A one-of-its kind book highlighting the life and times of Next Generation Indian business leaders based in the UAE has been launched.

The fifth in a series of books on Indian and Asian pacesetters, trendsetters and achievers, Gen Next Indians has been published by Xponent Media.

The ceremony was attended by Abdul Rahman Saif Al Ghurair, Chairman of Dubai Chamber of Commerce and Industry, Mirza Al Sayegh, Director of the Office of Sheikh Hamdan bin Rashid Al Maktoum, UAE Minister of Finance and Deputy Ruler of Dubai, Indian Ambassador to the UAE, T P Seetharam, and Dr Ram Buxani and Bharatbhai Shah.

The 206-page glossy book has profiled 25 business leaders from across a broad spectrum of economic fields.

Speaking on the occasion, Mirza Al Sayegh, who served as the UAE Consul General in Mumbai in the 1970s, said these young individuals, armed with good education and supported by their visionary and encouraging families, have to come up to the high expectations in terms of their performance and achievements.

Recalling the strong Indo-UAE relations and the unfaltering involvement of the Indian community, specially business leaders, in the nation building, P Seetharam said India is one of the top investors in the UAE.

The two-way trade between the two countries reached a record high of US$75 billion during 2012-2013.

Abdul Rahman Al Ghurair said that the strategic role played by Indian businessmen can be seen across various economic sectors of Dubai as they engage into very productive activities and make use of the emirate's status of an East meets West destination, adding that the Indian businessmen have many success stories to share with the world.

The business leaders featured in the book are: Adel Rizwan Sajan, Aditya Rajaram, Akbar Moideen Thumbay, Anand Kapoor, Ashish Panjabi, Abdul Wahab, Aanya Aggarwal, Binay R. Shetty, Hameed Salahuddin, Javeria Rasheed, John Paul Alukkas, Kiran Chhabria, Kamal Vachani, Maryam Salahuddin, Mahesh Shahdadpuri, Mitika Goculdas, Natasha Gangaramani, Nitin Anand, Nisha Jagtiani, Raghav Arora, Raju Shroff, Rohan Mehta, Suneel Aggarwal, Vikram Bhatia and Zanubia Shams.

The book will be available in select book stores across the UAE soon.
Follow Emirates 24|7 on Google News.