British PM to cooperate with India on graft probe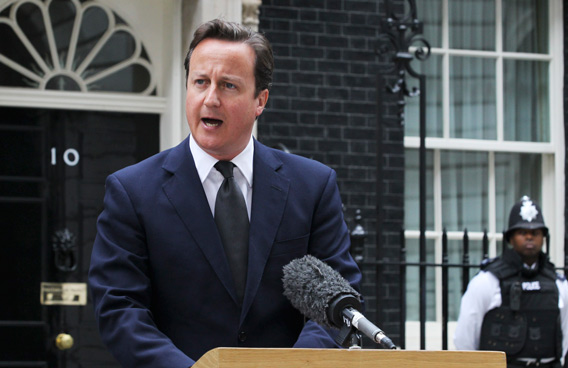 British Prime Minister David Cameron promised full cooperation with India and its police as a probe into alleged kickbacks in a helicopter deal clouded his meetings Tuesday with leaders in New Delhi.
Cameron arrived in India on Monday with what he called the biggest-ever British overseas business delegation, pushing for better access to the booming market of 1.2 billion people and greater trade.
While keen to still convince India of the merits of the part-British Eurofighter military jets, he has been dogged by another defence deal involving the Anglo-Italian helicopter maker AgustaWestland.
Italian authorities made arrests last week during an investigation into bribes allegedly paid to secure the $750-million contract in 2010, and leaks to the press indicate one of the accused middlemen is based in London.
The helicopters are being made in southwest Britain.
"I haven't received an approach (from the Indian government about the case). Any approach we do get we will obviously cooperate with in full," Cameron told Indian channel NDTV.
"These are allegations that have been made and the Indian authorities and the Italian authorities will want to get to the truth. If there are unacceptable practices then that needs to be dealt with."
The first allegations of wrong-doing emerged last year, but India's government has said it was unable to gain information from Italian or British governments about their investigation.
Just a year ahead of national polls, the new scandal has rocked the government of Manmohan Singh and his Defence Minister A.K. Antony who ordered a police probe last week and has started the process of cancelling the deal.
Cameron sits down with Manmohan Singh for talks on Tuesday before meetings with President Pranab Mukherjee and the head of the ruling Congress party Sonia Gandhi.
Cameron and Singh are set to announce a "substantial" strengthening of co-operation in cyber-security, an area of mutual concern as many British companies store data in India, reports say.
The British leader has targeted a doubling of annual bilateral trade with India, from 11.5 billion pounds ($17.8 billion) in 2010 to 23 billion pounds by the time he faces re-election in 2015.
Speaking in Mumbai on Monday, he said that Britain wanted to be India's "partner of choice".
Among his 100-plus delegation are British executives eyeing moves by the Indian government to open up the retail, airline, banking and insurance sectors to foreign investors.
Amid concerns about a drive to slash immigration numbers and fears that young Indians could be deterred from applying to study in Britain, Cameron stressed in Mumbai that there was no limit on the number of Indians who could study there.
He also announced a new same-day visa service for Indian business people, and said Britain would be "rewriting our rules on the high-level technology that we're prepared to share with our Indian partners".
Cameron was also expected to remind India of the merits of the part-British Eurofighter jet, which was competing for a $12-billion contract until last year. India chose France's Dassault Aviation for exclusive negotiations but the deal has still not been signed.
Follow Emirates 24|7 on Google News.