Burj Khalifa resident lived with blue-collar workers, did odd-jobs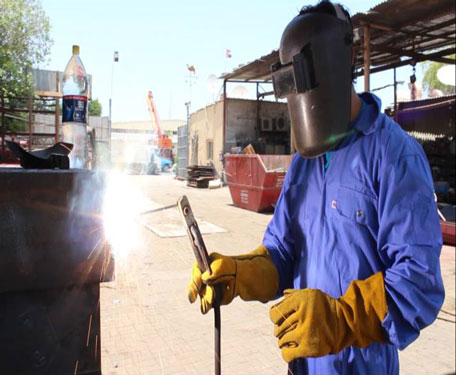 Stories about rags to riches are well-documented, and there exists a decent list of people who started with nothing, but with hard work, talent, grit, and of course a bit of luck, managed to rise to the very top ranks.
Arif Mirza. (Supplied)
Then there are stories about big business going bust, people who ruled the roost were made redundant one day because of circumstances and bad luck, but there are very few stories that speak of a well-heeled person willingly living the life of somebody on the street, just to experience what it actually is.
Arif Mirza on the job. (Supplied)

One such person dwells in Dubai. His address is one of the most famous in the world – a destination that needs no introduction. Yes, he lives the high life in Burj Khalifa, the world's tallest tower, but what makes him different is that he has recently finished a 30-day stint sharing accommodation with six blue-collared workers of the city in a small one-bedroom shack.

"No one knew who I was when I was on the streets. They did not know I was successful or that I lived in the Burj Khalifa. They shared meals with me, gave me water when I was thirsty, kind words and smiles when I was exhausted after a long day of manual labour. I will never forget these gestures and acts of kindness and generosity," he recalls his days living with the workers.
Arif Mirza gets a taste of the tough life. (Supplied)
Arif Mirza, the man that we're talking about, is a highly successful global entrepreneur with companies in six countries and a full-time staff of several hundred employees. He spends a majority of his time managing several successful technology companies and running his venture capital and investment funds.

He currently lives in the Burj Khalifa in Downtown Dubai, but is just back home after spending a full month in a small bedroom with six other people who were complete strangers to him. For 33 days, he pledged to live on Dh1,000, and documented his journey living/working on the streets of Dubai.

But what was the logic behind this, we ask him? It's about living the life of the less-privileged, giving it back to society in a way that is more than just signing a cheque, he says.

"Becoming successful meant more responsibility and duty to now give back to others and I wanted to find a way to relate to the everyday workers who built this city to where it is now.

"Instead of just signing a large cheque and calling it charity, I wanted to experience the plight of the workers, live in their shoes for a month, survive on the same income they survived on and then help as many people as I could by documenting my experience and sharing it with the people of the UAE and the world," he adds.

"I also wanted to experience what it was like starting from scratch and climbing my way back up to the top. Submitting myself to the extreme heat, hard manual labour conditions, basic food diet, poor living conditions and working, negotiating, asking for help, and effectively inspiring people along the way to finding a better quality of life," he elaborates.

And, this has "truly been a humbling experience," says Mirza. "I got to experience life again on the very lowest level, and it has not only helped me help others, but it has helped me understand better the mindset and problems of the workers in this city," he tells Emirates 24|7.

"I have learned so much. I started off with manual jobs like collecting scrap metal, welding, etc., then applied for jobs and got several positions in different companies and worked my way up to negotiating business deals," he says.

The protagonist here is all praise for the people who have built the many skyscrapers of the city, including the one which he lives in.

"The workers are dignified, hardworking people supporting their families, and deserve some assistance even if it is being done in small ways. I have now come to appreciate my own life more, and have become much more grateful for all the blessings that God has bestowed upon me. You will never understand life of the less fortunate until you walk 30 days in their shoes and experience life the way they are living it. I am very humbled," he says.

His maintains that his stay with the less-privileged of the city has left an indelible mark on him and his experiences are now recorded in a documentary, called 'Streets of Gold'.

And, as the word passed on, this one man initiative has found support in the society.

"We have been approached by many in helping us with this project. We have several volunteers, several thousand fans and supporters online who have helped in many ways. It is a community CSR project now and has attracted the kindness and generosity of many thousand Dubai citizens. We are actually in the process of working out details on a new project of handing out water to the workers during these hot and sunny afternoons," explains Mirza.

Even though he spent a month with the workers of the city, Mirza does not expect or urge others to do what he did. Philanthropy can be practiced in many ways, what's important is that one should show empathy towards people who are less fortunate.

"I don't expect everyone to go and live for 30 days in the streets like I did. But I do expect everyone to help in their own way in whatever capacity they can. Many residents of this city are living a very privileged life and are very fortunate. I believe all blessings grow when they are shared with others," he says.

In fact, what started off as 'Streets of Gold' has now become 'Hearts of Gold', he says. People have been offering their time and money to help out, participate in the documentary and give back to the community, says Mirza.

And now that he is home, Mirza is reciprocating the hospitality that was meted out to him by the workers he lived with.

"I have taken many people from the streets that I had met along my journey and invited them into my home in the Burj Khalifa for dinners, coaching sessions on motivation and inspiration. Many of these people have never seen the inside of a high-rise building, and they could not even afford to tour the world's tallest building.

"They saw the Burj Khalifa like a silhouette from their windows, and it was a dream-come-true for them. I am driven to help them even more by raising money, to give back in education, food, water, shelter and much more," he says as he appeals to others for helping out those who are not as fortunate as us, and giving back to society what we ideally should.
Follow Emirates 24|7 on Google News.