Burj Khalifa stands tall on your car plate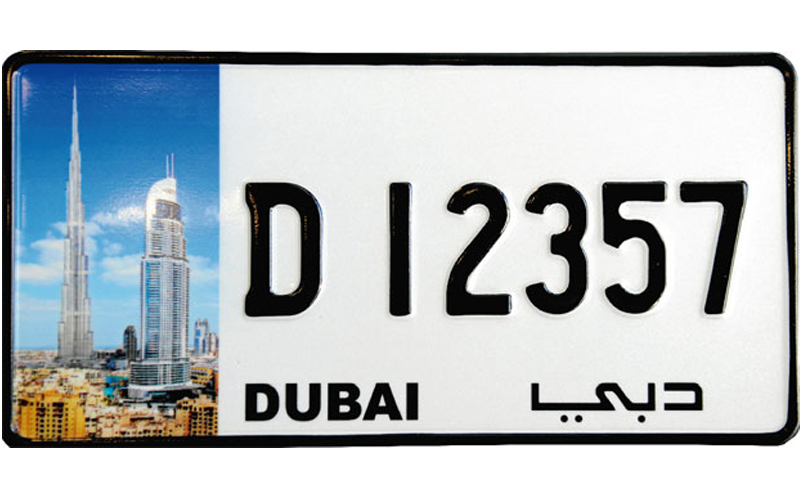 A famous Dubai landmark will soon find its way on license plate near you as the Roads and Transports Authority approves a plan to personalise your drive.
The service is set to roll out next year by end of Q1, with future initiatives including personalised corporate logos on number plates, or even an image of your favourite local football club.
Speaking to Emirates 24|7, Ahmed Bahrozian, CEO of the RTA Licensing Agency said: "The plan to roll out personalised license plates has been in the works for a while and should be available by the end of Q1 2013.
"It is a voluntary add on service, which will be available for a small fee, which has yet to be determined."
The service will only available online, said Bahrozian, with those interested having the choice of five to six Dubai famous landmarks to choose from.
"We have already predetermined the imagery and users can either have a special add on to side of their current plates, which would cover a quarter of the length, or order a new one plate entirely," he explained, adding that the latter will be a little more expensive.
Bahrozian also revealed that the RTA is also planning to extend the service to corporates.
"Possibly, by the end of next year, the service will also include corporates, whereby company logos can be added to personalise their fleet of cars; this is specially advantageous for hotels," he admitted.
Bahrozian added: "Take the Burj Al Arab for example. The hotel could soon be able to personalise their cars with an image of their iconic property. This is what we hope to aim at in the near future.
"If this plan goes well, we will also gradually introduce insignia of the popular local football clubs as fans are very loyal to those they support."
He also didn't rule out accepting suggestions from the public either.
Talking about the reasoning behind the new service, Bahrozian said: "Personalising number plates is certainly not a new concept, with places such as the US, UK and Australia providing a similar service.
"However, those services are more personalised with users choosing words and alphanumeric combinations on the plates. Our service will not be very flexible in that sense, but will certainly bring a change to the current design we have."
The CEO said that while he is unable to quantify the number of initial buyers in the first year, he revealed that the feedback has been quite positive and they do expect the service to pick, maybe after an "initial slow start."
Quizzed whether the imagery may become a mandatory add on service in future, Bahrozian denied the claim, saying: "We will never make this compulsory for our users."
Follow Emirates 24|7 on Google News.