Caged baboons spotted in Dubai's Hor Al Anz area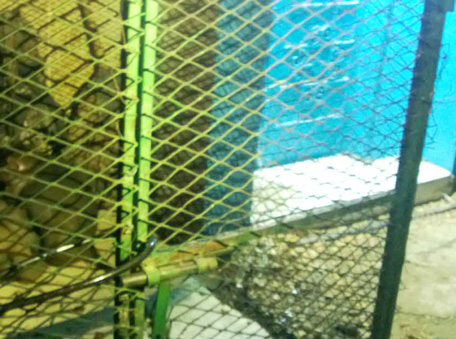 Two baboons cramped in a small cage in front of a residence in Hor Al Anz were snapped by a concerned passer-by. The cage looks small compared to the size of the baboons, and the monkeys seemed to be in bad health.
An unnamed person sent the pictures to Montserrat Martin, who heads Friends of Animals in Dubai.
"I am hoping that this person will be able to direct me to the location. If he is, we will go there and rescue the monkeys," she told Emirates 24|7.
It is not the first time Montserrat has come across domesticated baboons in the UAE, she says.
In the past three years, she has seen five such cases.
"When baboons are below the age of one, they look cute. People want to keep these baby baboons as pets in their house. I believe they are imported, and sold here," she says.
"But once they have reached the age of one year, they start to grow and become aggressive. A male baboon can weigh 65kg, and when he stands up, he can reach 1.10 meters. And they bite. Sometimes, these monkeys can carry diseases such as HIV, Hepatitis B, or TBC, which are dangerous to humans too."
The Breeding Center for Arabian Endangered Wildlife hosts an indigenous baboon population. Montserrat regularly brings the rescued baboons to the center. However, integration into an unfamiliar community is problematic for baboons.
"They kill each other, so this option does not work most of the time. What happens next is that the baboon is euthanised."
Follow Emirates 24|7 on Google News.