Camels strut the stuff at Abu Dhabi pageant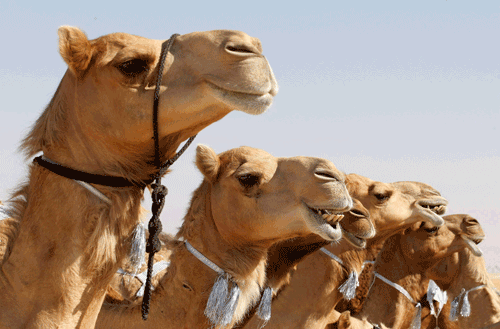 Nearly 20,000 camels from the UAE and other Gulf Arab countries have converged on Abu Dhabi's western region for one of the world's biggest camel beauty contests involving prizes worth nearly Dh35 million ($9.5 million).
The camels have been brought from various parts of the UAE as well as neighbouring Saudi Arabia, Oman, Kuwait and other Gulf nations for the week-long beauty competition in the western town of Dhafra.
The contest, which started on Thursday, will stretch until next Friday and officials described it as one of the largest camel beauty pageant in the world in terms of the value of prizes and number of camels.
More than 800 camel owners from the UAE and other regional nations are participating in the event, which is sponsored by Sheikh Mohammed bin Zayed Al Nahyan, Abu Dhabi's crown prince and deputy supreme commander of the UAE armed forces. It is organised by the Culture and Heritage Authority.
Camel beauty contests and races are among the most popular events in the Arabian Peninsula along with falconing and other desert activities. Camel races are held regularly in all Gulf countries and attended by top officials and sheikhs but they are suspended in summer because of the heat.
The UAE had around 378,000 camels at the end of 2008 while there were nearly 870,000 camels in Saudi Arabia, and124,000 in Oman.
As for the whole Arab region, there were an estimated 15.8 million camels at the end of 2008 and nearly 70 per cent of them are concentrated in impoverished Sudan and conflict-battered Somalia, according to official statistics.
The figure is more than one million camels higher than in 2001 and the bulk of the increase was in Sudan, the UAE and other Gulf nations, showed the figures by the Khartoum-based Arab Organization for Agricultural Development (AOAD).
Somalia, one of the poorest Arab nations, emerged as the richest in camels, which were estimated at around 7.13 million, just below half of the combined Arab camel wealth, said AOAD, an affiliate of the Cairo-based Arab League.
Sudan, one of the largest Arab countries, had the second highest number of camels, standing at about 4.4 million at the end of 2008.
The report showed Mauritania, another poor Arab nation, had the third largest numbers of camels in the region, estimated at 1.49 million.
Follow Emirates 24|7 on Google News.