Cameras track 21,000 speedsters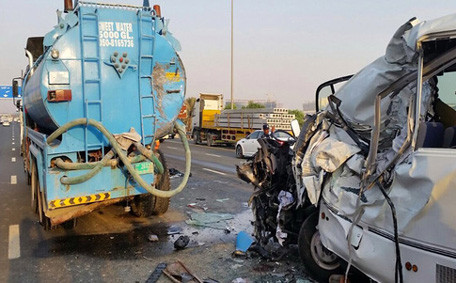 Dubai Police have installed advanced two-way speed cameras on accident-prone roads and nearly 21,000 reckless drivers were tracked by such devices just within a month of their operation, the emirate's police commander in chief has said.
The installation of new cameras in the second half of 2015 is part of a 'traffic deterrence' plan that also includes the deployment of police officers on congested roads that are more vulnerable to accidents, including Sheikh Zayed, Sheikh Mohammed bin Zayed and Emirates Roads, Major General Khamis Al Mazinah said.
Quoted by Dubai-based Emarat Al Youm daily, he said such measures were decided during a meeting of police officers from the traffic and other departments, adding that such a meeting would be held periodically to evaluate the plan.
He said the plan targets roads which have been the scene of serious accidents over the past period, adding that intensified patrols, installation of more speed cameras and other measures taken by the police over the past year have already succeeded in reducing road deaths by nearly 25 per cent in the first half of 2015.
"There will be a meeting of police officers every three months. We are determined to find solutions to bring order to roads and will not allow tolerate any one who tries to endanger the safety of others, or turns Dubai's roads into a race arena," he said.
He said police officers would be deployed on key roads and on busy streets in town centres and tourist areas as "a deterrent to drivers who do not respect the law".
He added that authorities have already started installing new advanced cameras that can hunt speedsters in both directions. "Nearly 21,000 drivers have been caught speeding by these cameras just a month after they were installed," he added.

Follow Emirates 24|7 on Google News.