Car on fire; 8 accidents across Dubai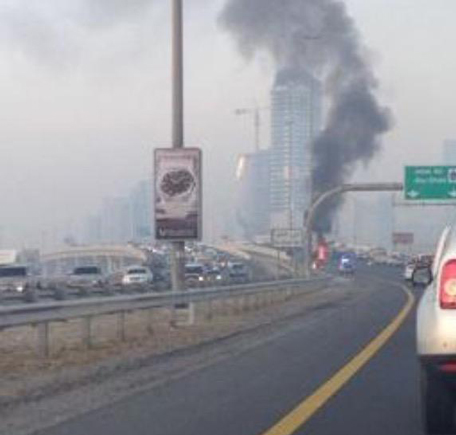 Commuters heading in from Sharjah are reporting a major gridlock and tailback on Al Khail Road, near the DIFC exit with a car reportedly ablaze.

Eyewitness accounts maintain that Civil Defence vehicles are on the scene, but due to the incident, there is traffic reported on both sides of the Al Khail Road.

"Bumper to bumper traffic starts from Business Bay on Al Khail road towards Al Quoz. Drive with patience," tweeted Mohammed Abdul Hameed.

Meanwhile, another accident on D73 is also being reported after the Dubai Mall exit towards Business Bay Bridge.

Dubai Police also confirmed earlier of a multi-vehicle traffic accident in Trade Centre Tunnel heading towards Jebel Ali.

Eyewitnesses have accounted up to seven cars involved in the pile-up.

Another accident was also seen on Al Wasl Road, southbound, before the Eppco petrol pump, a fender bender involving two vehicles, a Toyota Yaris and a Ford Explorer, blocking one lane of traffic.

A Twitter user reported on three other accidents, one on the link road from Dubai Investments Park roundabout, just before Sheikh Zayed Road intersection; a second accident has been reported on E66, on the Dubai-Al Ain Road after the Sheikh Mohammed bin Zayed intersection towards Jebel Ali.

Meanwhile, a sixth accident is also reported on E11 Al Itihad Rd before Al Mamzar Salik Gate towards Dubai.

Commuters heading in from Sharjah may chance the new Emirates Road as an alternative route.

Also, those heading into Jebel Ali or Abu Dhabi, take note of Al Yaliyas Street where a truck is reportedly blocking the road, with traffic backed up to Green Community roundabout.
Follow Emirates 24|7 on Google News.