Centuries old Emirati traditional housing fascinates visitors to Heritage Village in Global Village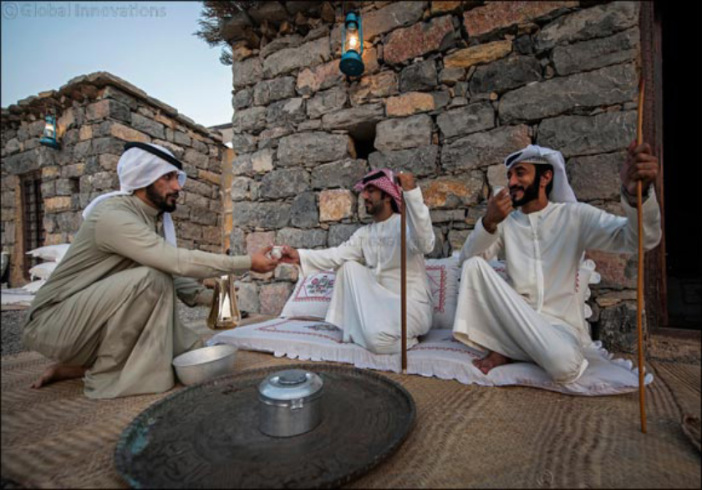 The Hamdan bin Mohammed Heritage Centre, HHC, has been attracting hundreds of visitors from around the world for the third year since the opening of the 21st season of Global Village in Dubai.
Every evening, the Heritage Village comes alive in an exhibition of traditional Emirati hospitality in a quaint atmosphere where handcrafters making pottery and weaving Sadu, defined by UNESCO as a traditional form of weaving practiced by Bedouin women in rural communities of the UAE to produce soft furnishings and decorative accessories, showcase their age old skills.
Old housing models and traditional designs reflect the ancient culture and heritage of the country.
Bedouin tents, homes made of palm leaves, stone houses that were built on the coast and abodes that were used in mountainous areas, have been reconstructed providing a stark contrast to architecture in the modern era. It is a throwback to the simplicity of life in a nomadic age and portrays the foundations of the origins of summer and winter homes in the UAE.
Mohammed bin Huraiz, CEO's Office Manager at HHC, said that the Heritage Village represents an open museum.
"HHC is keen to preserve the local cultures and display them to the public. Museums around the world play a pivotal role in raising awareness about the culture of countries, history and attracts visitors of all ages. The Centre has organised the Heritage Village without compromising details that reflects the same atmosphere as in the past."
He explained that the materials and tools used to recreate traditional houses were the same as used in the past, constructed in cooperation with specialised companies in the industry.
The Hamdan bin Mohammed Heritage Centre is the foremost resource and the most credible reference on the conservation and propagation of national heritage in the United Arab Emirates.
Its vision focuses on deepening the sense of national identity among the younger generation of Emiratis and promoting Emirati culture, values and traditions at both a regional and international level.
The centre organises events and competitions, conducts heritage studies and specialized research on the preservation and documentation of the UAE's national heritage, and provides heritage sources and references for researchers and members of the public who are interested in heritage studies.
It serves as a platform for all cultural and heritage initiatives, tournaments and activities as conceptualised by Sheikh Hamdan bin Mohammed bin Rashid Al Maktoum, Crown Prince of Dubai and Chairman of Dubai Executive Council.
Follow Emirates 24|7 on Google News.