'Chicking' forays into Indonesian, west European markets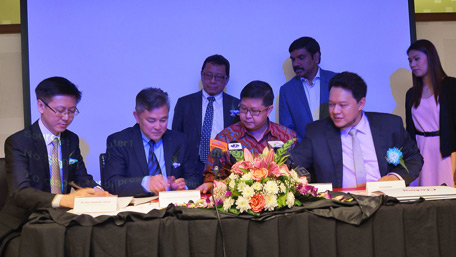 The UAE-based halal fast food chain, Chicking, has announced its foray into the Indonesian market with signing a master franchise agreement to open 20 Chicking outlets across Indonesia starting with Java and Sumatra. The popular UAE brand serving friend chickens and related products competing with major international brands like KFC, Mc Donalds and Burger King, continuing its expansion into the GCC countries, West African market and West Europe.
Speaking on the occasion of signing a master franchise agreement between BFI Management (DMCC), the franchise management division of Chicking and PT Ayam Top Dubai, the new master franchiser for the Indonesian market, AP Mansoor, Founder of the Chicking brand and Managing Director of Al Bayan Group of companies said Chicking will be opening its first European outlet in London next month, as part of an aggressive global expansion of the sixteen years old young UAE brand, that he developed from nowhere.
"We currently have 100 plus outlets in 9 countries and the plan is to reach 500 outlets by 2020. In the UAE we will be opening three more outlets within a couple of months in addition to the 17 outlets we already have. We are very confident about the expansion in the South East Asian market, after entering Malaysia last year and now in Indonesia with our halala quick service resetaurant chain," Mansoor said, adding that entering the London market, as part of its foray intot he European market is a challenging task.
"Work is progressing for our first outlet in the UK and details will be announced soon," Mansoor who started Chicking in the year 2000 said.
Fariq Halim, Chief Executive Officer of BFI Management DMCC said the appointment of Indonesian master franchise is a major milestone in Chicking's aggressive international franchise expansion plans. With a growing Muslim population of 200 million, the brand will be opening shops in different parts of Indonesia, a cluster of several islands. He said the flagship outlet of Chicking will be opned in Jakarta by the end of 2016, PT Ayam Top Dubai will be targeting over 20 Chicking outlets across Indonesia over the next five years bginiing with Java and Sumatra.
The Master Franchiser for Indonesia, PT Ayam Top Dubai, is founded by Raymond Bambang Widjaja with Hengki Setiawan and Hermanto Simon, who collectively have over 75 years experience in doing business in Indonesia and Australia. Raymond operates food and beverages business and master franchise for national and international brands in Indonesia and Australia.
"Indonesia has the largest Muslim population in the world and is one of the key markets that we have been monitoring. The QSR industry in Indonesia is diverse and predominantly controlled by domestic brands. It is a competitive and challenging market, however, we believe that we have the right partners to make Chicking a leading brand in Indonesia." He said Chicking's foray into the West European market before the end of 2016 with the opening of the first outlet in London in the second quarter of 2016. "We have reserved a strategic location in Central London and construction is currently on schedule towards the May 2016 deadline."
Follow Emirates 24|7 on Google News.