Child's play as Indian expat wins $1m in Dubai raffle draw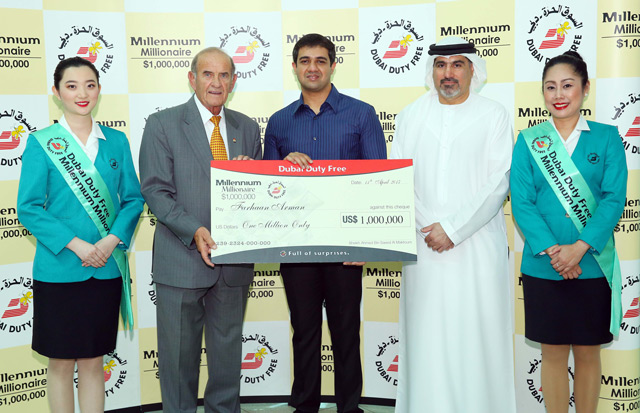 An Indian expat, Venugopal Passam, is now $1 million dollars richer after his ticket won in the Dubai Duty Free Millennium Millionaire draw, which was randomly selected online by his young son, was drawn today at Concourse B in Terminal 3 at Dubai International Airport.
Passam, a 31 year-old insurance broker living in Sharjah, couldn't believe his luck when the ticket chosen by his son Kavish on the eve of his second birthday made him a dollar millionaire.
"This is my first time to participate in the Dubai Duty Free promotions and I am delighted to win it big! This is such an incredible promotion that will surely change not only my life but also the future of my family."
Following the Millennium Millionaire draw, Dubai Duty Free presented a $1 million cheque to Farhaan Arman, an Indian national who flew in from Bangalore to Dubai to receive his winning prize.
He won a few weeks earlier.
Arman was thrilled to visit Dubai Duty Free and commented: "I am excited to be here today for such a wonderful occasion. Winning $1 million is an unforgettable experience which has changed our lives. So many of my friends in Bangalore are now buying the Millennium Millionaire tickets online and some have even flown to Dubai so that they could buy here at the airport."
In addition to the Millennium Millionaire winner, Dubai Duty Free also announced two winners in the Dubai Duty Free Finest Surprise promotion.
Mazin Hamed Al Julandani, a 29 year-old Omani national living in Muscat purchased his winning ticket, was understandably excited to have finally won an Audi A8L 4.0 after regularly buying Finest Surprise tickets for almost a year now. "It's my first win and it's my dream car! I couldn't be happier, you're amazing Dubai Duty Free!"
Meanwhile, Ahmad Farah, a Canadian national living in Kuwait will no doubt be excited to learn that his ticket has won him a Ducati Scramble Full Throttle.
The latest Millennium Millionaire and Finest Surprise draw was conducted by Dubai Duty Free officials headed by Colm McLoughlin - Executive Vice Chairman and CEO, Ramesh Cidambi - Chief Operating Officer, Salah Tahlak, Executive Vice President – Corporate Services and Sinead El Sibai, Senior Vice President – Marketing and Michael Schmidt, Senior Vice President – Retail Support.
Follow Emirates 24|7 on Google News.