Child Safety Campaign, Al Nabooda Automobiles lead awareness efforts on vehicle safety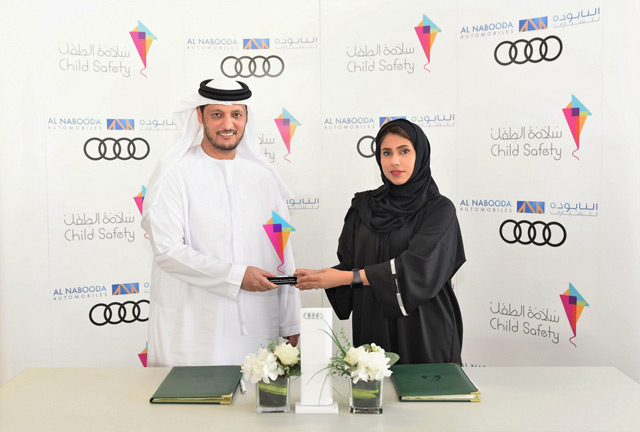 The Child Safety Campaign, CSC, an initiative of the Supreme Council for Family Affairs in Sharjah, SCFA, on Tuesday, signed a Memorandum of Understanding, MoU, with Al Nabooda Automobiles to raise awareness on children's safety in vehicles.
Through education and awareness, the MoU aims to protect children from injuries caused by road accidents.
The MoU was signed by Hanadi Saleh Al Yafei, Department Director at the Supreme Council for Family Affairs, Head of the Organising Committee of CSC, and Ali Al Nabooda, General Manager of Al Nabooda Automobiles.
The MoU aims to enhance cooperation on awareness campaigns, including a video production that will highlight the importance of using child restraint seats and seatbelts. Workshops will also be conducted to educate families on the UAE regulations for child restraints in vehicles and how to choose the right type of car seat according to the child's age and weight, in accordance with the standards of the Emirates Authority for Standardization and Metrology, ESMA. Other workshops will be held in nurseries, health clinics, hospitals and schools, while simultaneously educational publications will be distributed.
Al Yafei noted that the MoU intends to expand partnerships with relevant entities to ensure children's safety and protection.
"We are happy with the support and cooperation with private entities to instil a culture of child safety in the UAE and in Sharjah and promote the right behaviour required to achieve this goal. This partnership reflects Al Nabooda Automobiles' high sense of responsibility and commitment to play a positive role in supporting government efforts to ensure family stability and security. This comes as a continuation of our on-going partnership with Al Nabooda Automobiles over the past year," she added.
Ali Al Nabooda said, "Road safety is a topic which is naturally very close to our hearts. We always strive to support initiatives like the 'Child Safety Campaign' that educates the community and helps to reduce the number of accidents."
"Children are the future and all parents want to protect their children in the best possible way. Sometimes, this means bearing with crying children, because they do not like to be buckled up. We are proud to partner with the Child Safety Campaign on this endeavour," he added.
The World Health Organisation, WHO, reported that about 1.25 million people die each year as a result of road traffic accidents. Statistics in the UAE showed that about 70 percent of deaths among children are caused by road accidents.
Al Nabooda Automobiles, the Child Safety Campaign's Exclusive Automobile Partner, collaborated with Child Safety Campaign last January when the campaign distributed 366 car seats to needy families, new mothers, and taxis dedicated to women and families.
Follow Emirates 24|7 on Google News.