Chinese New Year of the Goat: How, where to celebrate in Dubai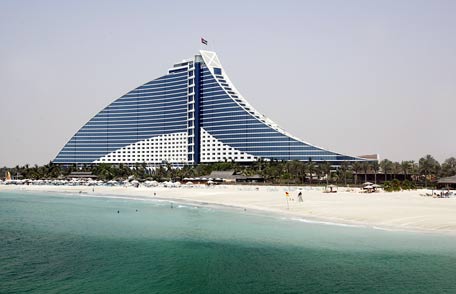 Chinese New Year is around the corner, on Thursday, February 19. Just as with other popular festivities and important days on the calendar, restaurants and shopping malls in Dubai are gearing up to welcome and celebrate it with the growing Chinese community in the country.

Whether it's 'live' performances, calligraphy illustrations or Chinese-themed feasts, there are plenty of options to choose from to celebrate this special time of the year. This is the year to celebrate the 'horned animal' – cited by some as a goat and by others, as a sheep or ram.

@ Jumeirah Beach Hotel

If you want a five-star touch, be a part of the celebrations at Jumeirah Beach Hotel as it celebrates the Chinese New Year with themed dining experiences on offer across the resort.

Enjoy 'live' music and authentic Chinese cuisine at its various restaurants, including traditional Chinese cuisine, with sunset views of the Burj Al Arab.

Besides the Chinese spread, enjoy authentic entertainment from Chinese Kung Fu tea masters and face changing artists performing at the Palm Court.

Ocean Blue is another restaurant at the resort, geared up for the New Year celebrations.

You can also order your special cakes at Latitude Creations.

@ The Address Hotel and Resorts

The Address Hotels and Resorts are all set to mark this Chinese New Year, feted as the 'Year of the Sheep,' in fervour.

Try a selection of authentic specialities at Ewaan in The Palace Downtown Dubai or treat yourself and loved ones to a one-of-a-kind Chinese themed Friday brunch and dinner at Fazaris.

The all-day dining restaurant offers iews of Burj Khalifa. Fazaris also hosts a spectacular banquet featuring a blend of Chinese delicacies.
Na3Na3 at The Address Dubai Mall is a good pick for an elaborate selection of Asian cuisine. Traditional delicacies will also be available with the BBQ duck to look forward to.

If you want to explore a culinary journey through Asia, celebrate Chinese New Year at Mazina at The Address Dubai Marina, which rolls out an array of authentic Cantonese dishes.
For those with kids, Generation Creation Brunch will have seasoned chefs train young ones on how to master the art of noodle making.

@ Mall of the Emirates

Majid Al Futtaim's leading shopping, leisure and entertainment destination, Mall of the Emirates will usher in Chinese New Year with cultural performances starting today, February 17, until March 5.

"To usher in the 'Year of the Sheep', we are extending the mall's Chinese New Year celebration to two weeks with compelling shows, offers, and rewards for shoppers as well as exclusive opportunities from our luxury retail partners," said Hussain Moosa, associate director for Shopping Malls, MAF Properties.

The mall will showcase a themed campaign including family-friendly activities, offers from luxury retail partners, and daily shopping sprees to be won, it said in a statement.

The mall has Mandarin-speaking staff onsite to cater to a growing number of visitors from China. "Chinese guests are growing part of the Mall of the Emirates community, and celebrating Chinese New Year enables all shoppers to enjoy the colour and energy of this holiday period," Moosa said.

Traditional Chinese performances on display artistry will include umbrella dance, fan dance, lion dance, and traditionally dressed golden Chinese dolls.

@ The Galleria on Al Maryah Island

The food may be sumptuous here, but what is more attractive at The Galleria on Al Maryah Island, Abu Dhabi will be the spectacular performances between February 18 and 21.

The property will be transformed into a modern adaptation of the famed 'The Seven Chinese Sisters' tale following the journey of seven sisters with unique talents such as speed, martial arts, culinary skills and the ability to talk to animals.

The narrative will be brought to life in the main indoor atrium where Chinese acts will take place on a grand two-level stage.

Rosewood Abu Dhabi, adjacent to The Galleria, will also mark the occasion with special surprises and treats for guests.
Also see: Movie Listings in UAE
Follow Emirates 24|7 on Google News.