Click now: Two more iPad Mini winners announced today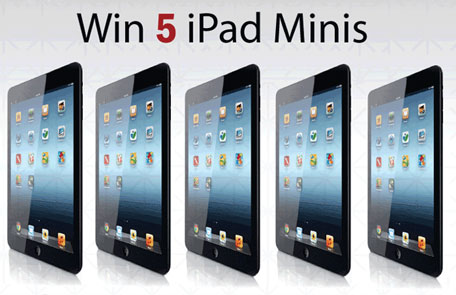 Thanks to all Emirates 24|7 fans and avid readers who have shown great support and enthusiasm for the draw to win 5 iPad Mini tablets.
The lucky winners of our final iPad Mini draw today are Teena Tom and Mustafahafiz Aiyub.
Teena is an Indian housewife, and has been in the UAE for a year-and-a-half now. She just couldn't contain her surprise and delight when we broke this news to her. "I am super excited," said Teena. "I am really happy to have won the iPad Mini," she said.
Mustafahafiz is an engineering student in Ras Al Khaimah, and also hails from India. "I've been in the UAE for five years, and this is the first time I've won a prize," said the ecstatic student. "I keep up-to-date with the news on my BlackBerry, and visit Emirates247.com every day to get my daily quota of news," he said.
Teena and Mustafahafiz are the fourth and fifth winners of the Emirates 24|7 iPad Mini draw. Vipin Vinaya Kumar, Ahmed Faraz and Rizalito R. Ramos are our earlier winners.
Congratulations to all our winners, all whom were picked at random by computer.
Here's what you needed to do to win:
a. Follow Emirates 24|7 on Twitter [https://twitter.com/Emirates247], and
b. Visit our Facebook Page [https://www.facebook.com/Emirates247] and and click the 'like' us button.
c. Fill in your contact details on either of the below linked pages or both, and
Automatically you would have been entered into a draw for FREE for the brand new iPad Mini from Apple.
About Emirates 24|7
Emirates 24|7 [www.emirates247.com] is referred to as 'The UAE's Best News Site' by no less than Alexa.com, the premier provider of information about websites globally.
It says: Emirates247.com is a vibrant and dynamic online news website that provides first-rate news about the UAE that you can use. It is part of the Dubai Government's Dubai Media Inc. and is the latest and the fastest rising stars on [UAE's] media scene.
Emirates 24|7 has managed to successfully carve out a niche for itself among the readers whose profile is that of a successful high-income professional with decision-making powers. Alexa says compared with all internet users, Emirates247.com's audience tends to appeal more to "high-income men browsing from work who have postgraduate education".
The success of Emirates 24|7 is by no means an accident. It has been through the over-riding vision of being a relevant news- and information-provider that helps in "informed decision-making" that has helped fuel the popularity of Emirates 24|7 among readers.
Follow Emirates 24|7 on Google News.