Closed public toilets: Dubai Gold Souq customers queue up under pressure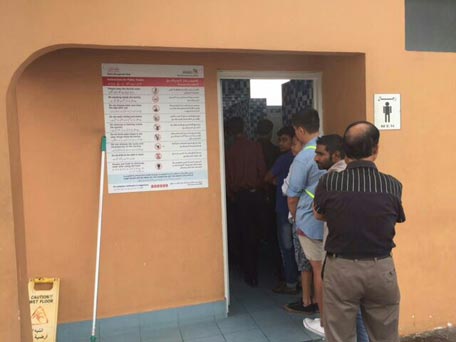 Hundreds of customers and employees, especially females, working in Deira Gold Souq shops are finding it difficult to find a public toilet after the closure of two lavatories.
Speaking to Emirates 24|7, employees working in various gold and jewllery outlets in the Gold Souq area said they have been finding it extremely difficult to attend to call of nature because two public toilets have been closed for maintenance and there is only one public toilet now with long queues outside.
"We used to use the public toilet inside the Gold Center building, which was closed a few months ago after a man was found dead there. Currently it's undergoing maintenance while another toilet which was easily accessible to nearly 2,000-plus staff working in various jewllery shops and outlets was also closed when the Roads and Transport Authority shifted the bus depot to a new location," said an employee of the gold soup shop.
"It is quite a major problem we're facing especially the female staff members as there are not toilets in small shops. Only big jewellery chains have the luxury of in-house toilets and people working in the other shops or companies do not have access to them. The authorities should address the problem immediately. Several thousand customers are coming to Gold Souq every day and majority are female customers," said a senior official from the Dubai Gold and Jewllery Group.
"We work in Gold Souq and our accommodation is a bit far. Now at critical times we go back to our accommodation to attend to call of nature because there is no other option," said another employee of a leading jewllery chain in Gold Souq area.
Follow Emirates 24|7 on Google News.