Coming soon: Giant touch screens on Dubai Metro stations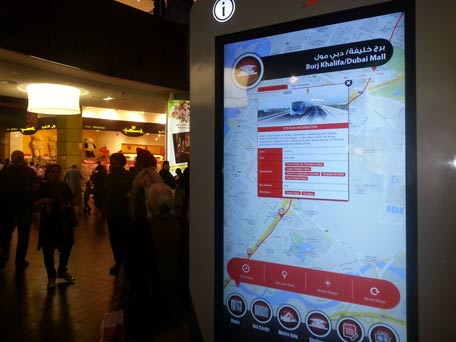 Giant touch screens providing metro information will soon be revealed on the most important metro stations on the Red and Green Line of Dubai Metro.
The new technology is currently presented at the Road and Transport Authority (RTA) stand in Dubai Mall, which has been set up on the occasion of Customer Week.
Within the next couple of weeks 50 screens will be provided on 20 stations, and more may be added if the initiative proves successful.
The idea is much like the touch screens functioning as information points in Dubai Mall, this time providing detailed information about the public transportation system of Dubai.
For example, a passenger can ask for detailed information about the route he would like to take, explains a customer representative at the stand.
With a simple touch he selects the station of departure and of desired destination. The travel time and ticket fee depending on the Nol card selection are now presented on the screen.
The tap options are displayed on a Google map application, which allows the traveler to further plan out his route. Bus routes, connections, landmarks and directions can guide the commuter to the exact location.
Further information about the metro is available, such as metro times, Nol card fees, and a detailed map of the metro station, including the location of the bathroom, telephone and ticket office.
Another option in the menu is dedicated to pictures of Dubai metro.
The application is currently bi-lingual, with the information available in English and Arabic. In the future, two other languages will be added, namely Chinese and Russian, due to the high number of tourists speaking these languages, explained the representative.
Dubai metro currently counts 49 metro stations. This year two more stations are expected to be opened on the Green Line, which will indicate the operation of all metro stations that are currently available.
In the near future, both lines are likely to be extended. While the Green Line is expected to be extended from Al Jadaf to Academic City, plans have been discussed to draw another extension on the Red Line from Rashidiya to Mirdif.
Furthermore, the RTA is currently reviewing the options to best serve the future Expo site, with a possible new station at the location and/or a line extending to several key locations in the vicinity.
Follow Emirates 24|7 on Google News.