Countdown begins for Bani Yas Kite Fest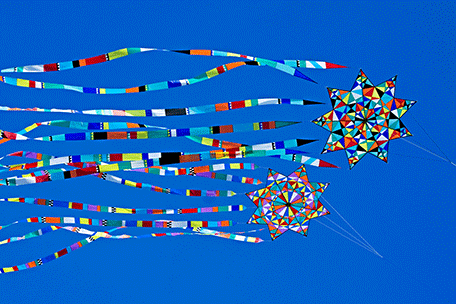 The countdown for Sir Bani Yas Island Kite Festival 2016 has begun which is slated to be held on Friday, February 19.
The festival, which will begin at 11am, is focused on families making their own kites and then flying them from the beaches of the island with a complimentary sausage sizzle, music, beach games and fun for all ages until 5pm.
Organised by Anantara Sir Bani Yas Island Resorts, there will be special climbing installed on the beach along the water slides and other activities for the family entertainment which will be free of charge.
Sharon Garrett, Area Director of Marketing and Communications, Anantara Hotels Resorts & Spas Abu Dhabi, said people can bring their own kites or can make at the site also. A video will also be made available for the people on how to make a kite.
"Within 48 hours of the event going live on social media we had received registrations from more than 100 participants which certainly exceeded our expectations. The registration will close 48 hours before the event," Sharon Garrett added.
The kite flying contest will commence at 12noon with three different categories:
(1) Smallest Kite: Entries must fly on 7.5m of line and flyer higher than the point of mooring.
(2) Most Creative Kite: Entries will be judged on theme, construction and design. Judges are looking for creativity with novel and odd features and shapes.
(3) Largest Kite: The area of the sail will determine the largest kite. Please bear in mind that kite trains are not allowed. Kites must be capable of flying for more than one minute to qualify. Contestants are limited to three attempts in this event.
Registration, which is free of charge, is now open by emailing kitefest.sirbaniyas@anantara.com.
No professional kites will be permitted in the contest.
Follow Emirates 24|7 on Google News.