Creativity, technique and stylistic uniqueness key criteria in jury's evaluation of Dubai Canvas 3D Art Award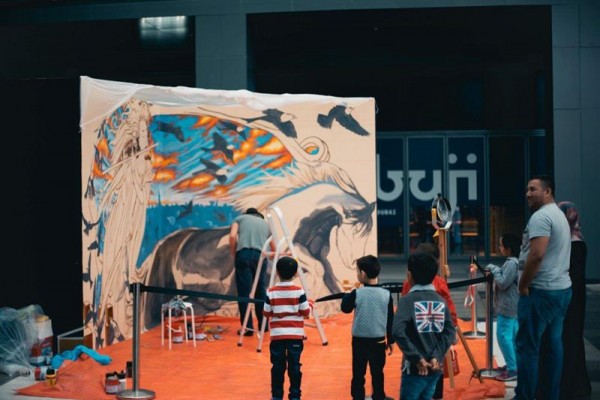 The jury of the Dubai Canvas 3D Art Award will be looking for exceptional creativity, technique and style in its evaluation of the 25 artworks shortlisted for the Award.
The shortlisted works are being displayed at the Dubai Canvas 3D Art Festival 2017, which began in City Walk on Sunday.
The Award and Festival are organised by Brand Dubai, the creative arm of Government of Dubai Media Office, in partnership with Meraas, one of Dubai's leading holding companies.
Members of the Award jury panel include Mona bin Kalli, Director of Sheikha Manal Cultural Office; Pablo Del Val, International Director of Art Dubai; Mohammed Saeed Al Hareb, creator of the popular animated Emirati TV series FREEJ and Chairman of Lammtara Art Production; Dr. Nazneen Shafi, the Executive Director of Engage ME; and Mike Kothuis, Co-Founder of the World Street Painting Festival.
Director of Brand Dubai Maitha Buhumaid said: "The jury is composed of prominent personalities in Dubai's cultural scene including leading creative pioneers, heads of leading cultural organisations and art curators. Their experience and expertise make them ideal members of the jury panel for this Award. Considering the high quality of art on display at the Festival, the jury members have a challenging job in selecting the winners. The artists shortlisted for the Award are some of the most innovative 3D artists in the world, many of whom have pioneered unique and influential techniques and artistic approaches. Ultimately, the jury will be choosing artworks that stand out for their exceptional creativity, technique and style."
The Dubai Canvas 3D Art Award is the world's first award that recognises excellence in 3D art.
The artists shortlisted for the first edition of the Award are competing with each other to win Dh2.3 million worth of prizemoney.
Three winners will be honoured at a ceremony to be held at the Dubai Canvas Festival. There will also be a 'People's Choice' award based on votes from the public.
Follow Emirates 24|7 on Google News.