Crime: Wife attacks husband with axe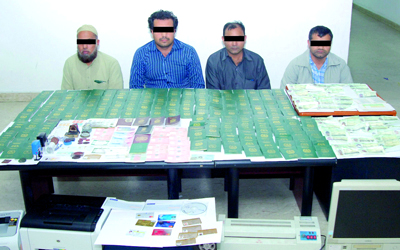 A Saudi woman assaulted her husband with an axe causing a fracture in his hand while her little son suffered from a serious head injury after falling off his father's hands.

The woman had an argument with her husband, who was carrying their baby, before she brought an axe and lunged at him.

She hit her husband on the hand while her son went into coma after falling down on the floor during the attack at their house in the western town of Makkah, according to the Arabic language daily Alwatan.
Passport, visa forgers nabbed in Sharjah
Sharjah police arrested four Pakistani men involved in forging passports and visas for the UAE in return for Dh1,000-1,500 for each document.
Police, acting on a tip off, seized one suspect who led them to the other members of the gang at an apartment in the northern emirate.
Police raided the flat and arrested the three but one suspect managed to flee, triggering an extensive police manhunt.
Police said they seized systems, equipment and stamps during the raid, adding that they were used in forging passports, entry visas and labour cards for expatriates residing inside and outside the UAE.
The four were sent to the prosecution for questioning before standing trial, police said, adding that all of them confessed to the crime.
Six months jail for gold thieves
A court in Diba al Hisn in Fujeirah sentenced three Emirati young men to six months in prison after they were convicted of stealing nearly Dh300,000 worth of gold from local houses.
The three confessed to burgling three houses in Diba Al Hisn and Diba Al Fujeirah during late night operations. The loot also included cash and other jewelry.
(Home page image courtesy Shutterstock)
Follow Emirates 24|7 on Google News.