Cristiano Ronaldo's firm leases 12 flats in Dubai's Discovery Gardens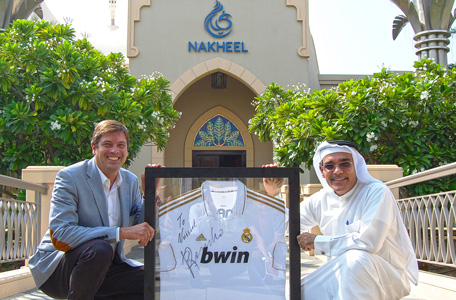 Dubai-based master developer Nakheel's residential leasing team has scored a new deal with Sports Stars Media – and netted a Real Madrid shirt, personally signed by Portuguese football legend Cristiano Ronaldo, in the process.

Sports Stars Media, of which Real Madrid player Cristiano Ronaldo is a shareholder, has leased 12 apartments at Nakheel's Discovery Gardens for its Dubai-based team of IT engineers.

Sports Stars Media's Chairman Carlos Amaro presented the signed No. 7 shirt as a token of thanks to the Nakheel leasing team.

Hassan Musabih, Director of Leasing and Property Management at Nakheel, said: "We are delighted to welcome the staff of Sports Stars Media to Discovery Gardens. Nakheel promotes sports and social interaction at its communities, so our partnership with Sports Stars Media is a natural fit. And, as a huge fan of football myself, it was real honour to receive a shirt personally signed by Ronaldo – arguably one of the greatest players the world has ever seen."

Sports Stars Media, which currently operates in Portugal and the UAE, joins forces with world-famous sports personalities to bring entertainment and education through TV, video and social media.

Current projects include animated TV show Mourinho and the Special Ones, endorsed by Chelsea manager Jose Mourinho, and The Game by Ronaldo, which uses social media to create a worldwide amateur football championship, starting in October 2013. The Game by Ronaldo is promoted and endorsed by Ronaldo himself.
Follow Emirates 24|7 on Google News.