Crown Prince of Abu Dhabi visits interactive exhibition on sidelines of Mohamed bin Zayed Majlis for Future Generations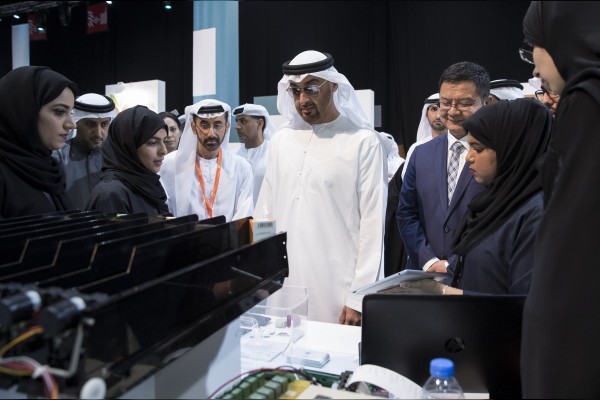 His Highness Sheikh Mohamed bin Zayed Al Nahyan, Crown Prince of Abu Dhabi and Deputy Supreme Commander of the UAE Armed Forces, visited an interactive exhibition held alongside the Mohammed bin Zayed Majlis for Future Generations on Tuesday, following its launch at the Abu Dhabi National Exhibition Centre, ADNEC.
His Highness Sheikh Mohamed bin Zayed was briefed during the tour, which covered several interactive platforms, on important programmes, innovative projects and ideas presented by students, educational institutions and scientific centres.
He visited the Airbus Initiative "Little Engineer" pavilion, a programme launched in partnership with the UAE Space Agency to encourage students to engage in science and technology.
Sheikh Mohammed bin Zayed was informed of the initiative as well as the techniques used by the global agencies in the launch of space probes until they reach their tracks in space. The initiative focusses on Mars and the probes that would be used to reach the planet.
Sheikh Mohamed then moved to the Ministry of Education's pavilion, where he was briefed by UAE University students on a text-to-braille device that would help the blind read in an innovative way.
He also visited the "Minds on Mission" pavilion, a workshop where students meet to discuss the problems in finding appropriate solutions as well as suggestions and ideas to deal with their dilemmas. The winner receives an award for his idea.
Follow Emirates 24|7 on Google News.