D-5, Q-77, and other VIP plates auction with RTA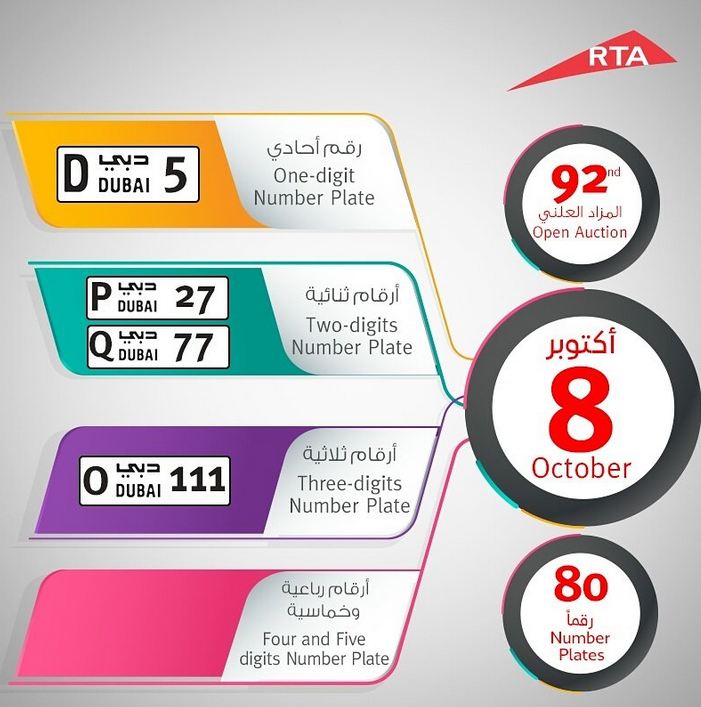 In an unprecedented move, the Roads and Transport Authority (RTA) of Dubai is offering a one-digit number plate for the very first time.
Buyers will be able to nab VIP plate number D-5 in the forthcoming 92nd open auction to be held on Saturday October 8, 2016 at JW Marriott Marquis Hotel Dubai.
The RTA states this step supports efforts towards bringing happiness to people.
About 80 distinctive licensing plates will be on offer including two, three, four and five-digit plates.
Registration of bidders will start on Sunday October 2 and last for one week.
"This auction is bound to generate a huge response, rendering it a standout among other previous auctions. It is expected to attract massive audience of those in pursuit of exclusivity and excellence," said Ahmed Bahrozyan, CEO of RTA's Licensing Agency.
Offering a mono-digital plate in the auction would captivate the attention of a wide range of people, and trigger stronger competition between number plate enthusiasts, he added.
The auction would also sell other distinctive plates comprising two, three, four and five-digits from various codes.
He continued: "The auction would offer about 80 distinctive plates highlighted by Q-77, P-27, and O-111, to name a few.
"Interested bidders are required to register in customers' service centers at Umm Romool, Deira, and Al Barsha.
"Registration can also be made online via RTA's website, 'Drivers and Vehicles' Smart App," added Bahrozyan.
Registration for the auction will remain open until the day of the auction, which will start at 4.30pm.
Follow Emirates 24|7 on Google News.