DCT releases book featuring selected quotes by Sheikh Zayed in four languages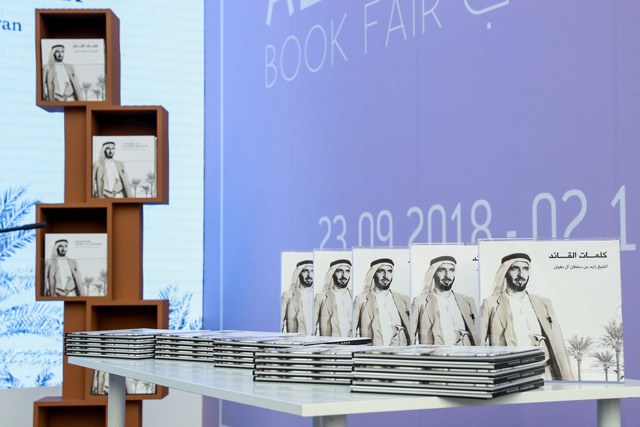 Marking the centenary of the birth of the Founding Father, the late Sheikh Zayed bin Sultan Al Nahyan, the Department of Culture and Tourism – Abu Dhabi, DCT – Abu Dhabi, has released "Words of a leader - Sheikh Zayed bin Sultan Al Nahyan", a book featuring selected quotes by the Founding Father.
Translated from Arabic, the book is now available in four languages: English, French, German and Spanish, with Chinese, Indian and Russian translations expected soon.
Coinciding with the "Year of Zayed 2018", the publishing of this special title in four languages comes in conjunction with the 10th edition of Al Ain Book Fair, which has been organised by DCT Abu Dhabi at the Al Ain Convention Centre between 23rd September and 2nd October.
The book comprises many speeches and statements made by Sheikh Zayed, focussing on the foundations of sound governance, and on the secret behind a country's success, which is to serve the people and further their aspirations. "Officials live to serve the people" is one of the values that underline his thinking. He often painted the image of the good employee or the virtuous official, calling for the productive employment of the country's riches and openness to modern science.
Commenting on the release, Mohamed Khalifa Al Mubarak, Chairman of DCT Abu Dhabi, said, "Throughout his life, the late Sheikh Zayed instilled in us deep values of nation-building, welfare, development, social harmony, charity, dialogue, international cooperation and much else from the beliefs that he employed in building the UAE. Driven by these values, the UAE quickly became a developed country and a model for both young and strong countries.
"The Founding Father put this vision into words on various occasions, uttering wisdom worthy of being memorialised."
Al Mubarak noted, "Publishing this selection of quotes by the Founding Father in Arabic and four other languages in this the Year of Zayed, celebrates his exemplary lifetime of priceless ideals. Drawing on his teachings, we present this book to future generations so that they may learn from his sound and moderate ways. We also present this book to the world offering them the chance to explore the mind of a distinguished leader who managed to harness the simplest resources to build a strong and influential country."
The selected quotes reveal the depth of Sheikh Zayed's intellect and comprehensive forward-looking mindset. He inspired young people, offering deep insights into his view of the future and the keys behind success while urging them to take action and work tirelessly. He also spoke of and worked towards achieving equality for women in all aspects of life, from leadership to science, leading the UAE to become even greater, socially and intellectually.
His political statements were built on a profound passion for justice, which he kept framed in his belief in coexistence, and accordingly continued to speak against war, advocate intercultural dialogue, and defend the rights of nations suffering injustice.
The Founding Father saw in the prosperity of the UAE and its GGC sister-countries an entwined fate that would later engulf the Arab world and other neighbouring countries. He always preached cooperation, and solidarity among all nations towards transcending all differences. He advocated openness and modernity based on authenticity and heritage, which he thought distinguished each country. Most importantly, he shed a light on Islam and its original message of peace, away from hateful and terrorist tendencies that some attach to it, whether driven by ignorance or bad intentions.
Follow Emirates 24|7 on Google News.