Designs of the new Trans-UAE train revealed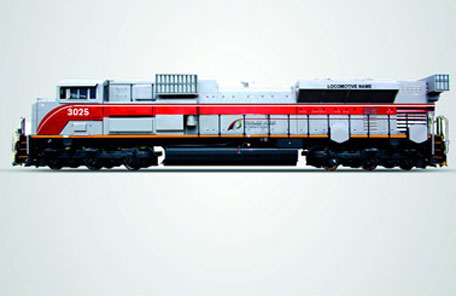 A UAE company set up to oversee a multi-billion dollar project to construct the country's first inter-emirate rail network has revealed the final designs of the train, which will have a grey body marked with a red line in the middle.
The train will also carry the company's motto, which will be derived from the UAE flag, Etihad Rail said in a statement.
"The design of the project has been completed and this means it is going ahead and will be completed on schedule," Etihad's Rail Chairman Nassir Al Suwaidi told the Dubai-based Emarat Al Youm daily.
He said the train would be operated on time at the end of 2013 in the western region before it is extended to other parts of the UAE.
The US-based Electro Motive Diesel Inc. carried out the designs of the project's first phase and train cars are scheduled to be delivered end 2012.
Abu Dhabi-based Etihad Rail said last month the project would link the UAE's two main cities-Dubai and Abu Dhabi - in 2016 before it is extended to other cities in the second largest Arab economy in 2018.
Etihad Rail, carrying out one of the largest train projects in the Middle East, said it would launch the second phase later this year and it would extend nearly 510 km to link Abu Dhabi to Jebel Ali and Dubai city.
The first stage covers Musaffah industrial area and Khalifa Port, which will be connected to Jebel Ali, the largest free zone in the Gulf.
Etihad Rail has said the 1,200-km project could involve investments of nearly Dh40 billion and will have a capacity of nearly 16 million passengers a year.
"The capacity could climb to 110 million tonnes of cargo and two million containers after the project is linked to the planned rail way in the Gulf Cooperation Council (GCC) in 2030, " it said.
According to Etihad Rail website, the railway will connect the UAE to Saudi Arabia via Ghweifat in the West and Oman via Al Ain in the East. The railway will be built to link the principal centres of population and industry of the UAE, as well as to form a vital part of the planned GCC railway network, said Etihad Rail, which was formed in line with a federal law in 2009.
"Once complete, the project will redefine logistics and transport in the region, providing as a safe, efficient, sustainable network that links all corners of the UAE, and eventually, the UAE to the wider GCC….…this extensive investment will support the Government's continued mission to build a diversified economy and continued economic growth."
Follow Emirates 24|7 on Google News.