Dewa current year budget over Dh23bn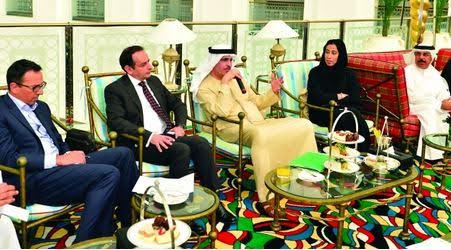 The CEO of the Dubai Electricity and Water Authority (Dewa) Saeed Al Tayer revealed that Dewa has received an ambitious budget for the current year - over Dh23 billion; and it has strategic projects exceeding Dh27 billion.
Al Tayer revealed the above at a meeting organised by the Media Office of the Government of Dubai, that periodically hosts senior officials from various sectors.
He said that 84 per cent of Dubai's population are classified among the first consumer segment for power consumption (0 to 2,000 kW) and this ratio is excellent.
He stressed that plans for development of the energy sector in Dubai are going according to the vision of His Highness Sheikh Mohammed bin Rashid Al Maktoum, Vice-President and Prime Minister of the UAE and Ruler of Dubai.
He added that the Solar Innovation Centre at the Mohammed Bin Rashid Al Maktoum Solar Park is working for the future of clean energy.
Al Tayer anticipated Dh500 million investment in the sector within the next five years.
Al Tayer also highlighted the significance of the Dubai Clean Energy Strategy 2050 launched by His Highness Sheikh Mohammed bin Rashid in 2015 during UAE Innovation Week, which aims to make Dubai a global clean energy and green economy hub. The Dubai Clean Energy Strategy 2050 will guide the development of the energy sector in Dubai over the next three decades. According to the Strategy, Dubai aims to generate 7 per cent of its energy from clean energy sources by 2020. This target will be raised to 25 per cent by 2030 and 75 per cent by 2050, he said.
Al Tayer said the energy sector in Dubai has witnessed dramatic growth over the past 25 years, with power capacity jumping from 1,000 megawatts in 1991 to over 10,000 megawatts today. He said Dubai currently operates over 200 substations of 132 KV compared to five substations in the 1990s.
The Dewa CEO also talked about the merger between the Dubai Electricity Company and Dubai Water Department in 1992, which helped the company evolve and respond to the growth in demand created by Dubai's rapid development. Al Tayer said that Dewa was able to achieve a network line loss rate of 3.26%, one of the best rates globally, compared to the US and EU average of 6-7%. Dewa's Customer Minutes Lost (CML) were 4.9 compared to 15 in the EU. Dewa's water network loss was 9% compared to 15% in North America.
Answering a question about Dewa's 2016 budget, Al Tayer said a total budget of Dh23.655 billion has been approved for 2016, compared to Dh22.873 billion in 2015. In addition, Dewa has also launched strategic projects worth over Dh27 billion that use the Independent Power Producer (IPP) model to leverage Public Private Partnerships to build new capacity in renewable energy and diversify the Emirate's energy mix in the long-term.
Al Tayer said the 2016 budget includes a number of key projects including Dh2.957 billion worth of power generation projects, Dh3.416 billion of power transmission projects, Dh1.209 billion of power distribution projects and Dh1.042 billion of water and civil engineering projects apart from Dh95 million allocated to various other projects.
The Dewa CEO said that one of its top priorities is to develop national cadres in line with the leadership's vision of investing in the development of Emirati human capital. He said that nationals represent 85% of Dewa's leadership positions and 45% of middle tier administrative positions, accounting for a total of 2,300 employees. Al Tayer also highlighted Dewa's Scholarship Program for postgraduate education and the Dewa Academy that aims to develop Emirati employees in various fields. He said the Academy is currently training over 150 students. Dewa employs about 300 Emirati fresh graduates every year, he said.
Al Tayer said assets of Dewa and its affiliated companies exceed Dh127 billion. Speaking about Dewa's partnership with the private sector, he said this will have a positive impact on the sector. Independent Power Producers (IPPs) will enhance energy production sector and reduce operational costs, he added.
Al Tayer said the private sector will provide about 2,400 megawatts of electricity and more than 1,000 megawatts of solar energy by 2020, which indicates the importance of the partnership with the private sector and the success of the company's strategy in this regard.
Al Tayer underscored Dewa's keenness to use the latest technology, implement state-of-the-art solutions and provide training and qualification programmes to raise the efficiency of the energy sector. He noted that during the global economic crisis, Dewa's annual growth rates increased from 6% to 12% by adopting such measures.
Al Tayer affirmed that Dewa gives the highest priority to sustainability, an approach that is aligned with its business strategy. Dewa, he said, is committed to meeting the highest green building standards, a commitment that has enabled it to obtain LEED certification from the US Green Building Council.
Al Tayer also spoke about an ambitious future project aimed at upgrading about 100,000 buildings in Dubai in order to enhance their energy efficiency, increase power savings and protect the environment. The first phase of this project will see over 30,000 buildings retrofitted at a cost of Dh30 billion, bringing returns of Dh82 billion, and a net profit of Dh52 billion.
Dewa's CEO affirmed that its power production will not be affected by oil price fluctuations. He said that the Authority is working on a project that aims to produce 2,500 megawatts of electricity. Dubai, he noted, has not witnessed any shortage of power since 1991.
He said that 84 per cent of Dubai's population are classified within the first consumer segment for power consumption (0 to 2,000 kW), a ratio that is excellent.
Al Tayer said that Dewa aims to enhance its installed capacity, which is currently 9,656 MW of electricity and 470 million imperial gallons of desalinated water per day. Dewa is currently working on expanding its M-Station power production and desalination plant at a total cost of Dh1.47 billion, he said. M-Station is the largest power production and desalination plant in the UAE with a total capacity of 2,060 megawatts of electricity and 140 million imperial gallons of water per day. The expansion project includes new power generation units with a capacity of 700 MW, which when added to the current capacity of the station will raise production to 2,760 megawatts by 2018. Upon completion of this station, Dewa's installed capacity will reach 10,356 MW of electricity.
On Dubai's plans to use nuclear energy as an alternative energy source, Al Tayer, who is also Chairman of Dubai Nuclear Energy Committee, said that importing nuclear energy is considered the best option currently as per the directives of the leadership. He said that studies are currently being conducted to assess the potential benefits of producing nuclear energy in Dubai. He further noted that the nuclear energy sector has witnessed significant development in the past years.
Al Tayer also talked about the Mohammed bin Rashid Al Maktoum Solar Park, which is one of the world's biggest strategic projects based on the Independent Power Producer (IPP) model.
He said the Solar Park will generate 1,000 megawatts of electricity by 2020 and 5,000 megawatts by 2030, helping to achieve a reduction of approximately 6.5 million tons of carbon emissions annually, which will support Dubai Government's green initiatives and programmes. He anticipated an investment of Dh500 million in the sector over the next five years.
On laws governing partnerships with the private sector for solar energy generation, Al Tayer noted that Dewa seeks to leverage public-private partnerships for generating electricity from solar power in accordance with Council Resolution 46 of 2014 issued by Dubai Crown Prince and Chairman of the Dubai Executive Council Sheikh Hamdan bin Mohammed bin Rashid Al Maktoum on the regulation of solar energy generation in buildings and their connection to the electrical grid. He added that such legislation aims to help Dubai transform itself into the world's smartest city and contribute to the diversification of its energy sources.
Al Tayer also spoke about Shams Dubai, Dewa's initiative to encourage building owners to install photovoltaic panels on rooftops to generate solar power. He said the initiative supports greater diversification of the energy mix by promoting the use of clean and renewable energy sources to build a sustainable future for the Emirate. He also discussed Dewa's Green Charger initiative, which is inspired by the vision of His Highness Sheikh Mohammed bin Rashid to transform Dubai into the smartest city in the world. The initiative seeks to introduce electric vehicles in Dubai to boost the efficient use of energy resources and reduce the Emirate's carbon footprint in line with Dubai's Integrated Energy Strategy 2030. Al Tayer said the first phase of the initiative is now complete. Since 2014, more than 100 electric vehicle charging stations have been established at various locations in Dubai.
Follow Emirates 24|7 on Google News.