DEWA increases electric vehicle charging stations to 200 across Dubai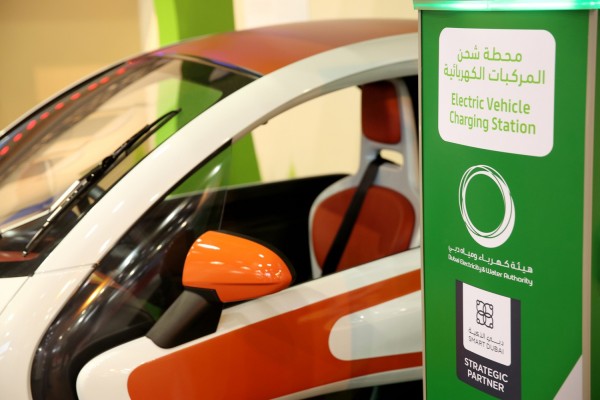 Dubai Electricity and Water Authority (DEWA) will double its electric vehicles charging stations to 200 across Dubai to complete the second phase of the Green Charger initiative.
This will build the infrastructure and charging stations for electric vehicles, which are an integral element in DEWA's strategy to develop the advanced infrastructure that meets the vision of Vice President, Prime Minister and Ruler of Dubai, His Highness Sheikh Mohammed bin Rashid Al Maktoum, to make Dubai the smartest and happiest city in the world.
"Through this initiative, DEWA aims to encourage people to use sustainable transportation of hybrid and electric vehicles, to help reduce carbon emissions in the transport sector, which is the second highest contributor of greenhouse gas emissions in Dubai. This initiative will contribute effectively to the achievement of the UAE Vision 2021 and Dubai Plan 2021, to make Dubai a smart, integrated and connected city that is fully sustainable with its resources, and where environmental components are clean, healthy and sustainable," Saeed Mohammed Al Tayer, MD & CEO of DEWA, said.
He added that the Green Charger initiative also contributes to the objectives of the Dubai Clean Energy Strategy 2050, to transform Dubai into an international hub for clean energy and green economy and to enhance Dubai's position as the city with the lowest carbon footprint worldwide. And it also supports the Dubai Carbon Abatement Strategy to reduce carbon emissions by 16% by 2021.
Al Tayer added, "The Supreme Council launched the Dubai Green Mobility initiative, to encourage the use of sustainable transport and electric vehicles among its member companies. The Supreme Council issued directive number 1 of 2016 for all government organisations that at least 2% of their vehicle purchases must be hybrid or electric vehicles from 2016 to 2020. This will then increase to 10% from 2021 to 2030."
He said that the Dubai Government identified the rate per kilowatt hour (kW/h) for public charging of an electric vehicle as 29 fils per kW/h. "This figure constitutes significant savings for electric car owners, compared with those that use fuel. For example, a Renault electric car can be charged for a full hour for a cost of only AED 7, where you can drive it for 130 km and can reach the same speeds as conventional cars. The larger the size of the battery the more time is needed to charge the battery, lengthening the distance that can be driven by a car during one charging cycle," Al Tayer added.
"These achievements have helped to strengthen the hybrid and electric vehicle market, encouraged electric vehicle manufacturers and suppliers, and stimulated the use of these environmentally-friendly vehicles for all Dubai residents. The electric vehicles are attracting a big number of people, due to their financial savings in addition to the use of zero-emission vehicles that keep the environment clean and sustainable," he concluded.
DEWA is setting up different types of charging stations, including fast-charging stations installed at petrol stations that take 20-40 minutes. These stations have 3 different plugs, one with a capacity of 48 kilowatts (kW) for Alternating Current (AC), CHAdeMO plugs, and Combo plugs with a capacity of 50kW of Direct Current (DC). Medium-charging stations installed at shopping malls, parks, and Dubai Government customer service centres take 2-4 hours. The stations feature two plugs, each with a capacity of 22kW. Wall-charging stations with a capacity of 22kW for AC will take 2-4 hours to charge.
The move complements DEWA's efforts to reduce air pollution and protect the environment from the impact of the transport sector in the Emirate.
Follow Emirates 24|7 on Google News.