DEWA, Masdar to break ground on Phase 3 of Mohammed bin Rashid Al Maktoum Solar Park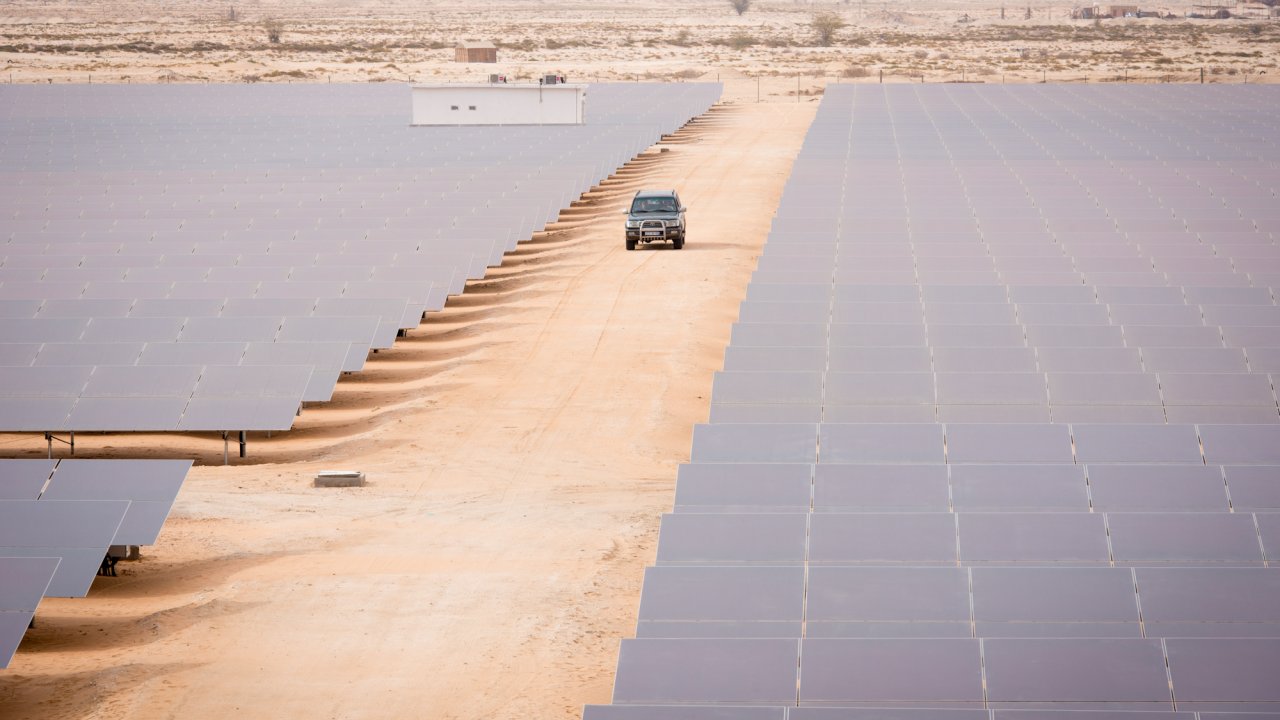 Construction of the 800 megawatt, MW, phase 3 of the Mohammed bin Rashid Al Maktoum Solar Park in Dubai will start at the end of this month following the award of the engineering, procurement and construction, EPC, contract for the project.
This was announced today at Abu Dhabi Sustainability Week, ADSW, 2017.
A Masdar-led consortium was selected last June by Dubai Electricity and Water Authority, DEWA, to develop what will be the world's largest solar park on a single plot on completion, after setting a record low bid price for solar power generation of US cents 2.99 per kilowatt-hour, kWh.
The EPC contract agreement has been awarded to an international consortium led by specialist renewable energy contractor GranSolar of Spain, alongside Spanish specialist Acciona and Ghella of Italy.
"The agreement with Masdar supports the directives of President His Highness Sheikh Khalifa bin Zayed Al Nahyan and his brother, His Highness Sheikh Mohammed bin Rashid Al Maktoum, Vice President, Prime Minister of the UAE and Ruler of Dubai, to support the growth of the promising clean energy sector, and our efforts to achieve the Dubai Clean Energy Strategy 2050, launched by His Highness Sheikh Mohammed bin Rashid Al Maktoum to diversify the energy mix so clean energy will generate 7% of Dubai's total power output by 2020, 25% by 2030 and 75% by 2050.
"The directives of His Highness are the roadmap that guides our ambitious initiatives and development projects. The agreement also supports the Dubai Plan 2021 to promote sustainability and happiness in Dubai, and achieve the aspirations of its citizens and residents, and DEWA's vision to become a sustainable innovative world-class utility," said Saeed Mohammed Al Tayer, MD and CEO of DEWA.
Construction of the 16 square-kilometre Phase 3 expansion of the Dubai Solar Park will occur in three stages. The first 200MW stage is expected to be completed by the first half of 2018 and the next 300MW phase is due the following year, with the final 300MW tranche to come on stream in the first half of 2020.
Today's announcement is the latest major milestone for the project, and follows the signing of a power purchasing agreement in November 2016 by Dr. Sultan Ahmed Al Jaber, UAE Minister of State and Chairman of Masdar, and Saeed Mohammed Al Tayer, Managing Director and Chief Executive Officer of DEWA. Under the agreement, both Masdar and DEWA will form a joint venture, Shua'a 2, to lead the construction of Phase 3's next stage of the project.
"This important milestone is a clear demonstration of the strong momentum behind the expansion of the Mohammed bin Rashid Al Maktoum Solar Park, now including partnerships with GranSolar, Acciona and Ghella, respected international companies with a strong track record in renewables. At Masdar, we are proud to be supporting the UAE in realising its bold clean energy targets, and we are grateful for DEWA's excellent leadership in this benchmark project," said Mohamed Jameel Al Ramahi, Chief Executive Officer of Masdar.
Earlier this month, His Highness Sheikh Mohammed bin Rashid Al Maktoum announced the UAE Energy Strategy 2050.
The strategy calls for a diversified energy mix with 50% sourced from clean energy. Dubai has also pledged to increase its share of renewables by 7 percent by 2020, 25 percent by 2030 and 75 percent by 2050.
The Mohammed bin Rashid Al Maktoum Solar Park project marks a new global milestone in the development of renewable energy in the Middle East and the world.
The consortium of Gransolar, Acciona Industrial and Ghella is delighted to form part of it, ready to provide its extensive experience in designing, constructing and operating solar energy plants and being fully committed to the DEWA and Masdar vision towards a more sustainable future for the region," said Domingo Vegas Fernandez, representing the consortium.
The Mohammed bin Rashid Al Maktoum Solar Park is expected to displace an estimated 6.5 million tonnes of carbon dioxide per annum on completion in 2030.
Follow Emirates 24|7 on Google News.