DEWA receives 7-Star rating from DGEP's Superiority Makers programme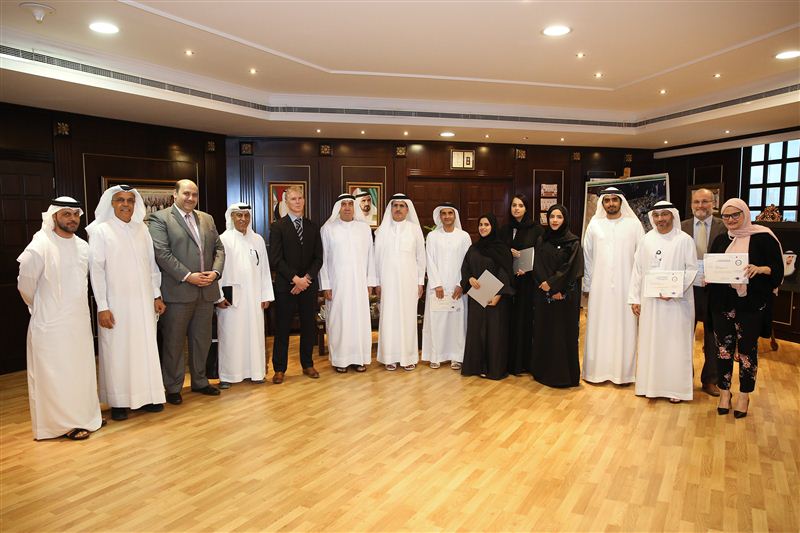 Dubai Electricity and Water Authority (DEWA) has received 7 Stars for participating in the Dubai We Learn - Knowledge Sharing and Innovation initiative for promoting and marketing the Shams Dubai initiative to its customers.
The certificate has been awarded by the Superiority Makers, hosted by the Dubai Government Excellence Program (DGEP).
DEWA beat 9 government organisations by achieving the highest rate possible under this prominent excellence programme. DEWA has accomplished this outstanding achievement by adopting the world's best practices recorded by TRADE benchmarking.

DEWA's team presented the Promoting and Marketing Shams Dubai project to an international expert committee, to highlight its distinguished experience in benchmarking.
The expert committee evaluated 13 innovative projects that took part in the Superiority Makers programme under the 'Dubai We Learn–Knowledge Sharing and Innovation' initiative. DEWA's team worked hard from November 2015 to December 2016 to achieve this new outstanding achievement.

Superiority Makers is a significant step in developing Dubai government operations and services.
The Dubai We Learn– Knowledge Sharing and Innovation programme provided government organisations in Dubai with a range of knowledge sharing and organisational learning activities, to fast-track organisational improvement and stimulate innovation.

HE Saeed Mohammed Al Tayer, MD and CEO of DEWA, was present when Dr. Ahmed Al Nusairat, Coordinator General of the Dubai Government Excellence Program (DGEP), presented certificates of appreciation to DEWA's team.

DEWA's team included Waleed Salman, EVP of Strategy and Business Development, Khawla Al Mehairi, VP of Marketing and Corporate Communications, Marwan Al Zaabi, VP of Corporate Excellence, Noura Alnaqbi, Project Manager, Negib Bouhouita, Mahmood Alawadhi, Maryam Abdulla, and Noha Tabrizi.
Dr Robin Mann, an international expert on benchmarking and corporate learning and Dr Ziad Kahlout, Senior Quality & Excellence Advisor at The Executive Council of Dubai, were also present.

Dr Al Nusairat congratulated DEWA on its outstanding results and ongoing contribution to government development and leadership.

'We are proud of this unprecedented achievement. At DEWA, we always observe the directives of His Highness Sheikh Mohammed bin Rashid Al Maktoum, Vice President and Prime Minister of the UAE and Ruler of Dubai, who launched the Dubai We Learn programme to promote excellence and leadership in the public sector, giving government organisations a great opportunity to achieve their goals in more effective and creative ways.
We collaborate with DGEP to make government organisations' administrative efficiency even better by adopting norms and indices that effectively measure their performance. This is key to achieving the best results and customers' happiness.
DEWA is keen on supporting the UAE Vision 2021, to make the UAE one of the best countries in the world by 2021, and being aligned with leading programmes and projects implemented by the UAE government to develop government performance and services,' said HE Saeed Mohammed Al Tayer, MD and CEO of DEWA.

"We adopt innovation, creativity and excellence concepts in our daily operations to promote performance and service efficiency, according to the key principles of the fourth generation of government excellence.
This system helps government organisations to attain new advanced levels of excellence and leadership," added Al Tayer.

"DEWA focuses on promoting the Shams Dubai initiative, which supports the Smart Dubai initiative launched by His Highness Sheikh Mohammed bin Rashid Al Maktoum, to make Dubai the smartest and happiest city in the world.
This helps Dubai government manage all services and facilities through connected and smart systems. Shams Dubai encourages building owners to install photovoltaic panels on their rooftops to generate electricity from solar power.
The electricity is used onsite and the surplus is exported to DEWA's grid. Any offset between exported and imported electricity units is settled on the customer's account based on this offset.
DEWA works within a vision that ensures continued growth, while protecting natural resources, and shaping the future of the energy sector in the region.
DEWA strives to contribute to sustainable development, ensure the prosperity and welfare of all its citizens, residents and visitors, and establish a sustainable future for generations to come," concluded Al Tayer.
Follow Emirates 24|7 on Google News.