DEWA urges customers to limit use of electrical appliances during 'Peak Load'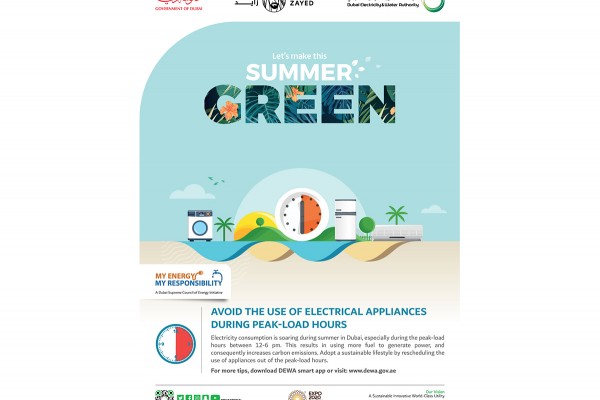 The Dubai Electricity and Water Authority, DEWA, has launched the "Peak Load" awareness campaign to encourage people to limit the use of appliances that use a lot of energy during peak-load hours from 12:00 – 18:00.
This is part of DEWA's "Let's Make This Summer Green" campaign, which includes tips and guidelines to reduce electricity and water use during the summer. DEWA is urging customers to reschedule the use of appliances such as water heaters, electric ovens, washing machines, dishwashers, and irons for use during the morning or evening.
"DEWA supports the Dubai Clean Energy Strategy 2050 to transform Dubai into a global hub for clean energy and green economy and make it the city with the lowest carbon footprint in the world. DEWA also supports the Demand Side Management Strategy to reduce electricity and water use by 30 percent by 2030. Through DEWA's campaigns and initiatives, we aim to promote conservation, to make it a daily behaviour for society members and encourage everyone to adopt a conscious and responsible lifestyle to ensure the sustainability of natural resources, for generations to come," said Saeed Mohammed Al Tayer, MD and CEO of DEWA.
Al Tayer noted that DEWA adopts a comprehensive strategy to raise awareness about the importance of the sensible use of energy and water and involve everyone in its efforts to protect the environment and preserve natural resources. This is done through various environmental programmes and initiatives as well as awareness campaigns. These campaigns have achieved significant savings over the past years and proved that all members of society can contribute to supporting the national and global efforts to combat climate change and global warming, by adopting positive practices at work and at home.
Amal Koshak, Vice President of Marketing and Corporate Communications at DEWA, noted that the "Peak Load" campaign urges customers to use high-energy consuming appliances in the morning or evening, outside peak-load hours. High energy demand during summer months, especially during peak-load hours, leads to generating more energy, which means the use of more fuel. This, in turn, releases more carbon emissions.
DEWA's programmes and initiatives achieved significant savings in electricity and water across all sectors. Between 2009 and 2017, customers saved over 1.677 TW/h of electricity and 6.66 billion gallons of water, worth over AED1.038 billion. The savings resulted in offsetting around 900,000 tonnes of carbon emissions. DEWA's programmes and initiatives managed to reduce electricity use by 19 percent and water by 27 percent in the residential sector.
Follow Emirates 24|7 on Google News.