Dh100m RTA contract for Dubai's Jumeirah Corniche awarded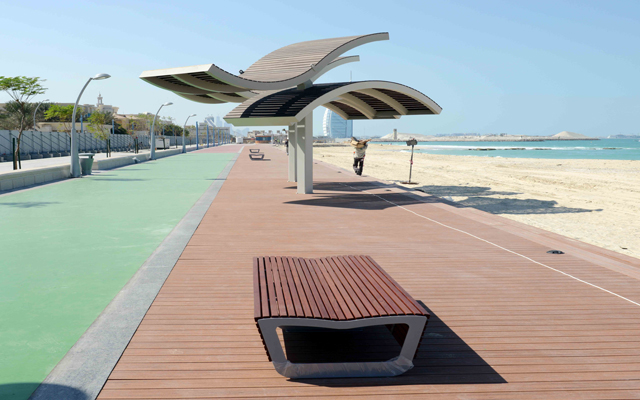 The Board of Directors of the Roads and Transport Authority (RTA) , chaired by Mattar Al Tayer, Chairman and Executive Director of the RTA , has recently endorsed the awarding of the Jumeirah Corniche Development Contract costing about Dh100 million.
The project spans the beachside of six residential communities starting from a location at the back of the Dubai Marine Beach Resort and Spa up to Burj Al Arab Hotel in a 14 km stretch, rendering it the longest corniche in the Emirate.
"This urban project is undertaken in response to the directives of His Highness Sheikh Mohammed bin Rashid Al Maktoum, Vice-President and Prime Minister of the UAE and Ruler of Dubai, to make people happier.
His Highness considers sport as a key element in building the community and having healthy individuals capable of adding to the development drive.
The Jumeirah Corniche will also be a beautiful addition offering rest and relaxation facilities for the public to enjoy and practice a variety of activities, and top class care to all visitors including citizens, residents and tourists heading towards the Corniche for relaxation, swimming or practicing sport," said Al Tayer.
"Besides offering a value-added aesthetic and comfortable relaxation destination, the project commands special importance as it contributes to the improvement of the social infrastructure in the Emirate, particularly as regards the quality of the public health of the community in terms of providing wider opportunities for practicing jogging and walking sports as well as a host of water sports such as swimming and rowing among others.
These beach activities befit all family members and contribute to raising their physique, thus have a direct contribution to improving the public health of the community through caring for the facilities that enable the public to practice all forms of sport," he explained.
The contractor started construction works in the project in the mid of last February and the project is slated for opening next November.
The project comprises the construction of a 5 metre-wide walk, 4 metre-wide jogging track, rest areas including retail kiosks and shaded benches overlooking the beach in addition to health and public realms.
The project will have a distinctive landscaping theme featuring well designed and positioned flora, and decorative lighting characterised by stylish and creative design," he continued.
"The project aims at converting the sand beach into a more vibrant facility through providing aesthetic, recreational elements as well as public services for the visiting tourists and residents heading to Dubai beaches to enjoy seaside sitting or practicing jogging and walking sports.
"Dubai city is the favourite tourist destination for multitude of nationalities particularly during vacations and public holidays.
"This prompted the drive to construct tourist projects offering fun to visitors, and to bear reference to the global standing of Dubai in creative designs and innovation," said Al Tayer in a final remark.
Follow Emirates 24|7 on Google News.