Dh2,000 Abu Dhabi fine for satellite dishes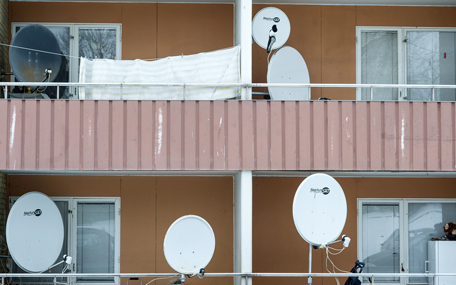 The Municipality of Abu Dhabi City announced that it will, as of today (March 1), strictly enforce a local law regulating satellite dishes and called upon landlords, tenants, investors, and real estate companies across Abu Dhabi city to remove them along with cable extensions;
which are mushrooming in a haphazard manner on the walls, rooftops and balconies of these buildings, or face a hefty fine of Dh2,000.
The public are urged to comply with Decree No 2 of 2012, which bans the installation of more than four dishes on rooftops, or installing any satellite dishes on balconies, walls and garden fences.
Saeed Al Hajeri, Director of Mobile Inspection at the Municipality, told the local news bulletin of Abu Dhabi TV ('Olum Al Dar') that the crackdown is part of the municipality's efforts to maintain the aesthetic appearance of the city, being a top priority of Abu Dhabi Government's Strategic Plan 2030.
He clarified that landlords and real estate investors are demanded by the law to install a maximum of four dishes connected to a central antenna system to meet the need of tenants from cable TV channels.
''Those who fail to remove these devices and pay the fine will be referred to the public prosecution,'' he emphaised.
The civic body says many negative impacts resulted from the random installation of satellite dishes, such as distorting the overall view of the city due to installing multitudes of dishes on building rooftops haphazardly.
In many cases the satellites are improperly connected and are poorly maintained, with cables strewn across walls. This can make it difficult for paramedics and other emergency response teams to gain access to homes.
The municipality is also urging companies that install and conduct maintenance of satellite dishes to follow safety standards.
Follow Emirates 24|7 on Google News.