Dh2.5m shelter for abused women, kids being built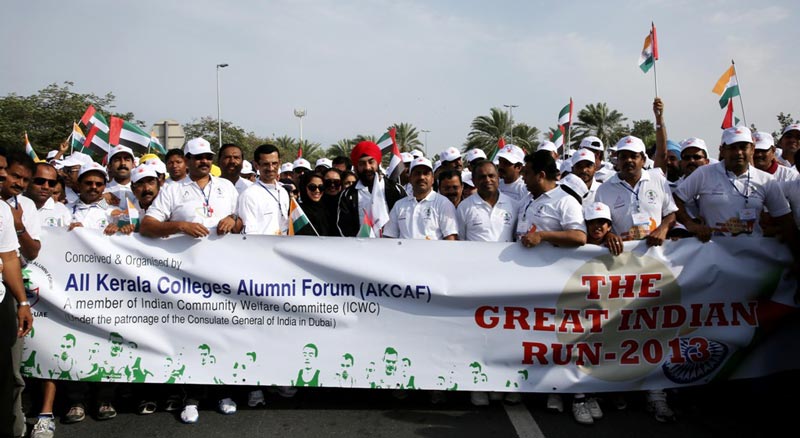 An Indian college alumni group organised the 'Great Indian Run 2013' on February 1 in association with the Dubai Foundation for Women and Children to create more awareness about the need to protect women and children and victims of domestic violence.

Continuing a campaign started last year, the All Kerala College Alumni Federation (ACKAF), with several thousand members representing 70 colleges in Kerala, organised the Great Indian Run 2013 on Friday February 1 at Mamzar Beach Road.

A part of the funds raised through the marathon was donated to DFWAC, the first licensed non-profit shelter in the UAE for distressed women and child victims of domestic violence.

Speaking to Emirates 24|7, Fathima Hassana Essa, Communication Director, DFWAC, said the foundation is building an art shelter to accommodate 120 people to replace an old villa currently used to shelter destitute children and victims of violence.

The foundation has been campaigning against abuse of women and children, irrespective of nationality and it is trying to reach the message to the public. Last year, it sheltered about 60 distressed women, including victims of domestic violence and human trafficking.

The foundation is conducting research into cases of domestic violence to make policy recommendations to address the problem of child and woman abuse.

"There are between 20 to 30 inmates at a time at the shelter," said Fatma Rashid Al Falasi, CSR and Resource Development Coordinator of DFWC.

Fatma said the new shelter costing Dh2.5 million will be opened in a few months. AKCAF raised funds for the foundation last year too and it was used for the foundation's welfare activities, she added.

Indian Consul General Sanjay Varma lead the marathon participants from the consulate, members of various community organisations and Indian school students.

"A token fee of Dh10 was collected from the participants. However, it was not compulsory and the entire funds raised through the marathon was given to DFWC,'" said Rajesh Pillai, convenor of the marathon.

Fatma said the number of abuse cases of women and children is very well under control and sometimes, the media exaggerate such cases.

"DWFAC assists women and child victims of violence residing in Dubai, regardless of race, class, ethnicity, religion or legal status. It provides free emergency shelter, medical care, counseling, legal assistance and consular and immigration support. The foundation also provides children's education, recreational activities and training to acquire skills," Fatma added.

The foundation, started in July 2007 by His Highness Sheikh Mohammed bin Rashid al Maktoum, Vice President and Prime Minister of the UAE and Ruler of Dubai, partnered with Dubai Sports Council, Roads and Transport Authority, Indian Consulate Dubai etc for the Great Indian Run 2013, in which nearly 1500 people participated.

Last year, ACKAF donated Dh 60,000 raised through such a marathon to the foundation.

"The Great Indian Run 2013 was part of AKCAF's efforts to reach out to the needy," said Sanu Mathew, president of AKCAF.

Follow Emirates 24|7 on Google News.