Dh2b of prizes won at DSF over two decades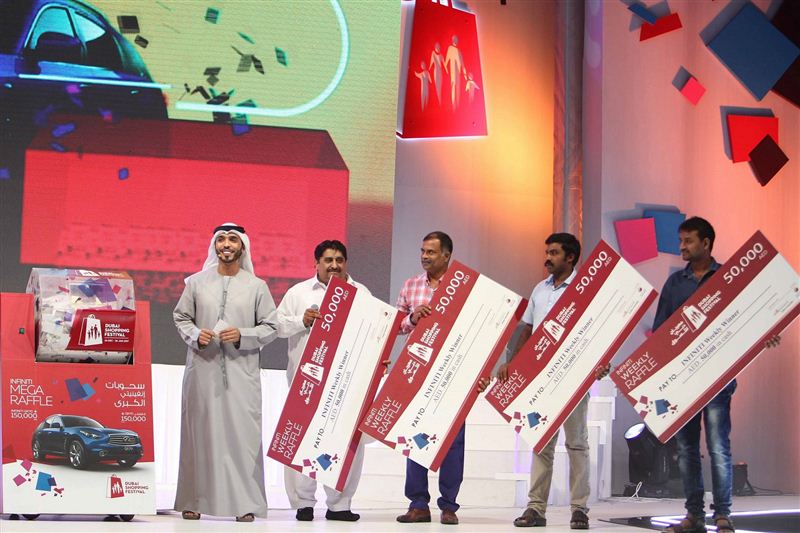 Since it was launched in 1996, the Dubai Shopping Festival (DSF), organised by the Dubai Festivals and Retail Establishment (DFRE), an agency of the Department of Tourism and Commerce Marketing (Dubai Tourism), has been spreading joy and happiness among residents and visitors every year with its great shopping experiences filled with mega promotions and raffles offering amazing prizes.
Over the past 22 years, prizes worth over Dh2 billion in various forms including property, cars, gold and cash have been distributed to DSF visitors who were fortunate enough to have won in one of the numerous raffle-linked shopping promotions.
These prizes have helped change the lives of many winners and the winning journey continues during the 22nd edition of the festival with total prizes of over Dh100 million up for grabs.
In previous editions of DSF, residents and visitors to Dubai have taken home incredible winnings including prizes like Rolls-Royce, Infiniti, Nissan, and Lexus cars.
One lucky DSF shopper even received 100 kg of gold that was offered as a grand prize while another won 10 Nissan cars, all for himself. One real estate company also offered prizes such as a small island, a private jet, as well as properties.
DSF combines shopping with 34 days of entertainment and leisure activities and offers many chances for visitors to win big.
The compulsive shopper will be perhaps the most rewarded visitor of DSF 2017 with bargains, special offers and discounts of up to 75 percent on a range of items including world-renowned brands of perfumes, electronics, cosmetics, jewellery, antiques and handicrafts.
Abdalla Hassan Al Ameeri, Director, Raffles and Promotions, DFRE, said: "The array of prizes offered by DSF, its strategic partners, key sponsors, and the various shopping malls and retail outlets participating in the promotions represent the Winning element of the festival, which together with Shopping and Entertainment, constitute the three pillars that ensure the success of the festival. Every year for the past 22 years, the size, scope and value of prizes offered to visitors every day for just over a month has helped make DSF a global attraction."
"With the festival playing an important role in boosting the retail sector, it has become the ideal platform for product launches and promotions, resulting in all major retailers rushing in to participate through various offers and prizes for shoppers. In fact, Dubai's retailers say that 25 percent of their annual sales happens during DSF, a reflection of the shopping excitement that is created during this famous retail season."
Follow Emirates 24|7 on Google News.