Dh600 fine, 6 black points for hard-shoulder driving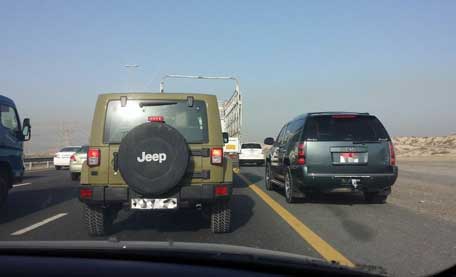 A series of traffic alerts and advice have been issued this morning by the Dubai Police and the RTA.

While most of them urge motorists to follow rules, drive safely and gave way to ambulances, one particular reminder stands out.

It is a tweet that reminds all motorists that the fine for overtaking on the hard-shoulder in Dubai is Dh600 and six black points.

Dubai Police tweeted this pic informing all motorists of the penalties for breaking the hard shoulder rule.


Hi-vis jackets

Police in Kalba, meanwhile, have warned motorcycle users and bicyclists that their vehicles will be confiscated if they do not meet the road-worthiness rules.

Cyclists are supposed to use hi-visibility jackets.
(Eudore Chand)

Bikers reminded to ride safe

In a separate event the Traffic and Patrols Directorate at Abu Dhabi Police held a lecture to warn against the dangers of motorbikes.

The lecture was organised by the Public Relations Branch at the Western Region's Traffic and Patrols Section, in cooperation with the Social Development Foundation in Ghayathi.

The lecture was presented by Captain Abdul Rahman Al Ali, Public Relations Branch Manager in the Western Region.
(Eudore Chand)

Captain Al Ali stressed the commitment of the department to raise traffic awareness, urging bikers to follow preventive measures while driving their motorcycles. "This lecture is part of the traffic awareness programme, and the 'Beware of Motorbike Dangers' campaign recently launched by the Ministry of Interior.

Captain Al Ali stressed the importance of preventive measures to ensure the safety of bikers.

"These measures include wearing a helmet to protect the head from trauma, wearing special clothes and protective gear for quad bikes which work to reduce the damage after falls, and wearing bright colored clothing," said Al Ali.
(Eudore Chand)

Furthermore, he also highlighted the importance of checking the motorcycle's front and rear lights, as well as the tires.

He recommended the installation of first-aid kits and reflective stickers for light, and recommended that bikers not allow passengers to ride behind them. "The injuries caused by motorcycles are 35 times more serious than the ones caused by car accidents," noted Al Ali.
Follow Emirates 24|7 on Google News.