Dhahi Khalfan inaugurates Emirates Forensic 2018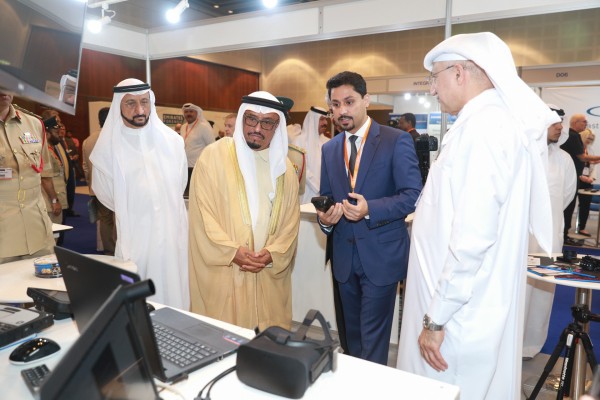 Lt. General Dhahi Khalfan Tamim, Deputy Chairman of Police and Public Security in Dubai and Honorary Chairman of Emirates Forensic, on Monday officially inaugurated the Emirates International Forensic Conference and Exhibition, Emirates Forensic 2018, being held from the 9th to 11th April at the Dubai International Convention and Exhibition Centre, under the theme "Science Serving Justice."
The three-day conference is being held under the patronage of H.H. Sheikh Hamdan bin Mohammed bin Rashid Al Maktoum, Crown Prince of Dubai and Chairman of Dubai Executive Council.
In his opening speech, Lt. General Tamim said, "The conference today is an opportunity to acquire knowledge in the field of forensic science and criminology, calling to focus on the best disciplines and cope with the requirements of the era, which will take us to the forefront in this field."
He further shared with the audience the Dubai Police's pioneering experience in the field of forensic science and criminology and the most important achievements made by Dubai Police in this field until today by setting up the Dubai Police Forensic Science building, which contains the latest technology and equipment, after studying the most important laboratories in the world such as the United States of America and Germany.
The number of national personnel working in Dubai Police's Forensic Lab doctors, experts, officers and staff is 631, out of which 19 are PhDs, 41 MAs, 143 BAs and 19 undergraduates, mostly nationals.
The second edition of the Emirates International Forensic Conference and Exhibition, running until 11th April, is organised by INDEX Conferences and Exhibitions a member of INDEX Holding in partnership with the Dubai Police.
Emirates Forensic is set to attract more than 2,000 visitors and participants over the next few days while also featuring the participation of 46 local and international experts, seven workshops, 20 exhibitors and more than 30 scientific lectures and 70 summaries. In addition, the conference is playing host to select chairs of world organisations of forensic science and criminology in the United States, the United Kingdom, France, Germany, Australia, Austria and other countries of the world, as well as scientists from the GCC countries and experts from the UAE in the criminal field.
Furthermore, in an effort to cater to the needs of students aspiring to enter the field of forensics, Emirates Forensic 2018 will provide university students a great opportunity to present their research papers through oral and poster presentations and will also be given a chance to participate in the Young Scientist Award Competition.
Following the opening ceremony,Dhahi Khalfan Tamim and Major General Abdullah Khalifa Al Marri, Commander-In-Chief of Dubai Police, accompanied by Major General Expert Khalil Ibrahim Al Mansoori, Assistant Commander-in-Chief of Criminal Investigation Affairs at Dubai Police, Major General Ahmed Mohammed bin Thani, Assistant Commander-in-Chief of Ports Affairs, Major General Mohammed Saad Al-Sharif, Assistant Commander-in-Chief of Administrative Affairs, and a number of local and international officials, heads of departments and police stations in Dubai, toured the exhibition area, where they were briefed about latest scientific innovations and technologies to overcome crime, including the use of DNA profiling, as well as the Digital Forensics and Artificial Intelligence (AI) among many others.
Follow Emirates 24|7 on Google News.